Listen to Martha Norwalk's Animal World every Sunday, 9 a.m. to noon
---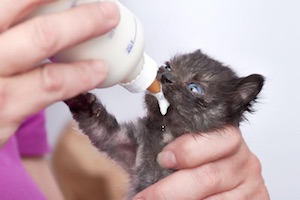 Missy's Rescue Desperately Needs Your Help!
Please help! Rent is overdue and supplies are depleted. A GoFundMe account has been set up so that you can help, or donate directly to PayPal.me/MissysRescue.
You can also bring your donations directly to Missy's at 12322 Lake City Way NE, Seattle, WA 98125, or donate on Facebook & Twitter (every little bit helps!) and/or become one a beloved volunteer or foster home!
This month's raffle has been extended until Jan 27 as only half of January's rent has been paid, Please help if you can! Paypal.me/missysrescue or call Missy at 206-526-1558.
---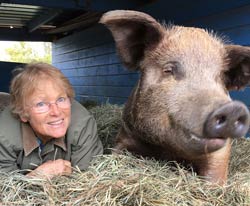 Help is Needed at
Pigs Peace Sanctuary in Stanwood
The owner, Judy Woods, has had an accident and surgery and cannot do the chores this winter, so a lot of money is needed to cover the needs at this time.
Please volunteer or donate if you can! Pigs Peace Sanctuary, PO Box 295, Stanwood, WA 98282, www.pigspeace.org
---
Upcoming Events at the NW Stream Center in South Everett, McCollum Park, 600 128th St. SE, Everett, WA 98208, 425-316-8592, www.streamkeeper.org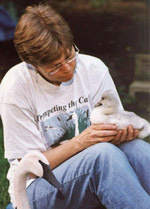 White Birds of Winter at the Northwest Stream Center
The White Birds of Winter are here! Thousands of Trumpeter and Tundra Swans and Snow Geese have migrated from Alaska and Canada to feed in the farm fields of Washington. On Thursday, January 31 at 7pm, Martha Jordan will be presenting a spectacular slide show about these magnificent birds at the Adopt A Stream Foundation's Northwest Steam Center in Snohomish County's Mc Collum Park (600 – 128th Street SE, Everett, WA 98208). Registration is required by calling 425-316-8592; $5 for Adopt A Stream Foundation members, $7 for non-members. Martha Jordan is the Executive Director of the Northwest Swan Conservation Association (www.nwswans.org). and has several entertaining tales to tell about that experience. During the show that is geared to middle school students to adults, she will explain the myths and share the facts about these beautiful birds. You will learn about swan and snow geese life history, biology, and some identification tips. Streamkeeper Academy events are conducted by the Adopt A Stream Foundation in partnership with Snohomish County Parks and Recreation. Up coming wildlife events include: All About Bears featuring a handsome Karelian Bear Dog named Colter (Feb 23), and Ghastly Gourmet featuring a beautiful lady vulture named Aura who has a five-foot wingspan (Mar 16). For more information call 425-316-8592 or go to www.streamkeeper.org.
All About Bears, Saturday, February 23, 1 p.m. Presented by Nick Jorg from WDFW, $5/$7. Call for reservations 425-316-8592.
---
Upcoming Events at Homeward Pet Adoption Center: www.homewardpet.org
Mark your calendar for the 2019 Fur Ball and Auction on May 18!
---
Darcy Pariso on the Radio Thursday, February 14, 11 a.m.
Darcy Pariso on Animal Soul Wisdom Radio, every second Thursday 11 am Pacific, 2 pm Eastern, on KKNW 1150 AM in Seattle or listen live at https://1150kknw.com/listen/. "Tapping into the wisdom of our animals, angels and masters." Call in with your questions.
Animal Communication and Problem-Solving, Saturday, Feb. 16, 10-5, in Shoreline at 1532 NW 195th St., $125.
Learn to Communicate with Animals, Saturday, February 2, Dayaalu Center, Bainbridge island, 10:30-5:30 p.m. https://darcypariso.com/events-classes/
---
Events at Seattle Humane:
Save the date for Tuxes & Tails 2019, Saturday, May 11 at the Meydenbauer Center in Bellevue. Tickets go on sale March 1.
Midwinter Break for Kids 8-12 years old: Animal Adventures Camp, Feb 18-21. Includes learning about aninal companionship, proper pet care and handling, and how to help animals in need, 8:30 a.m. to 3:30 p.m daily. Aftercare available for an additional fee. You can register for one day or the feel week camp. Contact educationservices@seattlehumane.org
Adoption event Jan 25-27: New Start, Happy Heart: $50 off all pets 1 year and older!
2019 Calendars on sale now at Seattle Humane or any Eastside Mud Bay store.
Kitty Literature offers the opportunity for 5-10 year olds to help socialize Seattle Humane's cats by reading to them. Participants can read to cats in the community adoption rooms for 20 minute sessions. What better way for your child to help animals and improve upon their own skill set!, More info and register at seattlehumane.org
---
What's New at Feral Cat Spay/Neuter Project:
Feral Cat Spay/Neuter Project and Pasado's Safe Haven collaborate on transportation to increase access to spay/neuter in Snohomish County. Pick-up is at Sultan Red Apple Market. For more information and make a reservation visit FCSNP's website and Facebook page
---
Events and Services at Purrfect Pals
Purrfect Pals is out of food. You can help by ordering a case of food from Amazon. They use Pro Plan adult Chicken ad Rice formula. Visit their Amazon Smile Wish List.
Free cat spay and neuter clinic Fridays by appointment at The Purrfect Pals clinic in Arlington. Donations are encouraged but not required. Email cats@purrfectpals.org or call 360-652-9611 to schedule an appointment.
---
Upcoming Events at MEOW
2019 calendars on sale now. Order online at www.meowcatrescue.org or call 425-822-6369.
Mark your calendar for the annual 2019 Fine Wines & Felines Fundraiser to benefit MEOW! Discount tickets will gon on sale beginning mid-June.
Become a MEOW Guardian Angel: A "Guardian Angel" is a person who cares deeply for an adult cat or cats, but isn't in the position to adopt them. This person pre-pays the adoption fee so that when someone is interested in adopting a cat or cats, the fee is waived. At any given time, MEOW has many adult cats who have Guardian Angels, blessed by the person who wants them to find a home, there will be no adoption fee.
Vouchers for Free Public Spay/Neuter Surgeries Available through MEOW: Thanks to grant funds received, MEOW continues to provide needed spay/neuter surgery support to those in our community. Since receiving their first grant mid 2010, they have funded over 2400 spay/neuter surgeries. Funds are available for dogs, feral or free-roaming cats, cats belonging to anyone needing financial assistance, and cats who qualify for their Toms & Moms program. While MEOW has often provided monetary support for community members needing financial assistance or those managing feral cat colonies, these additional grant funds help them do more. If you know someone who could use their help, please have them call the shelter (425-822-6369) or email MEOW at spayneuter@meowcatrescue.org
---
Seattle Animal Shelter Pet Loss Support Group meets on Thursday evenings from 6 to 7:30 p.m. at the Shelter. The meetings are free. For more information call (206) 386-7387 and press #3. www.seattleanimalshelter.org.
---
Free spaying/neutering available for parent dogs and cats at Seattle Animal Shelter
As part of an ongoing program, anyone who brings a litter of puppies or kittens to the Seattle Animal Shelter is eligible to have the parent animals spayed or neutered for free. As long as donors continue to support the Pet Population Control Fund, the offer will continue indefinitely. For more information about this free spay and neuter program and other Seattle Animal Shelter services, call (206) 386-PETS (7387). 49-7560 or online at seattlehumane.org/fix
---
If you would like to foster cats and kittens for Seattle Animal Shelter plan to attend a free foster cat orientation at Seattle Animal Shelter, held on the first Saturday of each month from noon to 1 p.m. Sign up by email at sasfostercatorientation@gmail.com. Pre-registration is required. For more information call 206-386-PETS.
---
N.O.A.H. and Feral Cat Spay/Neuter Project offering low rates for cat spay/neuter surgeries!
N.O.A.H. Animal Adoption and Spay/Neutear Center is now offering feline spay/neuter surgeries for only $10 to people regardless of location. N.O.A.H. also is now altering any feral or free roaming cat free! Other needed vaccines and tests are also offered at very low rates. For more information, visit N.O.A.H.'s web page at www.thenoahcenter.org/
---
Pet Loss Support Group meets on Saturday mornings at 10 a.m. at the Humane Society in Bellevue. More more information visit seattlehumane.org or call 425-641-0080.
---