Listen to Martha Norwalk's Animal World every Sunday, 9 a.m. to noon
---
Upcoming Event with Linda Rasmussen, CEO and founder of Vertical Energy Worldwide, www.verticalenergyworldwide.com
Linda is giving a free introductory treatment to all who ask. This can be done in-person or at her office or remotely. Call or text to 206-841-1992 or to Linda at linda@verticalenergyworldwide.com
---
Classes with Natasha Venter
A frequent guest on Martha's show, Natasha offers classes on a variety of subjects.
Awakening Your Intuitive Gift, 6 classes over a 3-month period, 30 min. to one-hour classes. Understand how and why you receive information and the messages you have been receiving, discover tools to use inside and out of you to navigate the world, and have conversations to support the individual walk of your gifts. You can take this course in a group or individually and Natasha will schedule you accordingly. Call her to get started. $150.
Bringing Light to the Shadow World, 6 classes over a 3-month period, 30 min, to 1 hour classes. Understand the shadow in you (emotions, traumas, hidden internal aches) and how it relates to everday life, integrate light into your shadow world, and learn how to stay the course through the shadows. You can take this course in a group or individually and Natasha will schedule you accordingly. $150.
For more information on the classes above, visit www.angelicclarifications.com. For Paypal and Zoom links, contact her at natasha@angelicclarifications.com or 360-770-7486.
---
Upcoming Events at the Northwest Stream Center
McCollum Park, 600 128th At. SE, Everett, 98208; 425-316-8592
https://www.streamkeeper.org/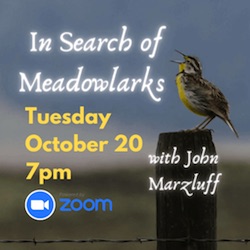 In Seach of Meadowlarks with John Marzluff on Zoom. Oct 20, 7 p.m. John is a wildlife scientist and birder, and he's "The Crow Guy" from UW. This should be a fantastic program. You can pay online through the center's Nature Store or call 360-316-8592.
The Northwest Stream Center is open to the public Tuesdays-Saturday, 10 a.m. to 4 p.m. Advance reservations are required on a 15-minute schedule, with visitors limited to one group (up to 5 people) every 15 minutes to ensure adequate social distancing as well as nature's solitude! Face covering required for entry. Select a time slot for reservation and arrive early at the Northwest Stream Center Gate House. Admission will be collected upon arrival. AASF Members: Free admission
Check out Streamkeeper Volunteer Opportunities and their student internship opportunities! Adopt A Stream Foundation is now ready to accept interns who are looking for some real world experience in the field of natural resources, environmental science, stream and wetland ecology, STEM and the like. Learn more about opportunities and the application process at
streamkeeper.org/internship-opportunities
---
Upcoming events for NW Canine Coalition:
Weekly segment on KING 5/KONG 6: Canine Rescue of the Week," Fridays at 7:45 a.m.
First Saturday of every month: Spotlight on Dogs, King 5, 6:45 am hour and again through the broadcast.
Follow them on FB, Instagram, and Twitter for Updates
---
Upcoming Events for Pawsitive Allliance www.pawsitivealliance.org
(Dates and information subject to change)
March 27, 2021: Gala for a Pawsitive Future, Bothell


December 5, 2021: Shelter Open House
---
Upcoming Events for Homeward Pet Adoption Center:
Homeward Pet is open by appointment. Visitors to the shelter for adoption appointments also have the responsibility to wear appropriate personal protective equipment (PPE) and maintain social distancing of 6 feet. For Homeward Pet, necessary PPE includes wearing a mask. In addition, all visitors will have their temperature checked with a no-touch, infrared thermometer. Animals available for adoption will also be posted to their website and our website will continue to be updated as new animals are made available. All in-person appointments to meet with a cat or dog will take place on a Saturday or Sunday. More info: https://www.homewardpet.org/
Donate Your Art for the Animals: Homeless Pet Adoption is planning an animal art auction in mid-November, and they need your help! If you have any animal-themed artwork you'd like to donate or create for an art auction to benefit Homeward Pet's animals, please reach out to their Community Engagement Manager, Natasha, at natasha@homewardpet.org. Paintings, sculptures, embroidery, or anything artistic or crafty is welcome. More info to come soon!
---
Events at Seattle Humane www.seattlehumane.org
Seattle Humane is closed to the public. Please keep checking the website.
Public Spay and Neuter Services are now available. Sign up on the Spay and Neuter page at the website.
Home to Home Program: Keeping Pets Out of the Shelter
Seattle Humane is working hard to keep families together through its community outreach programs, but sometimes pet guardians have to make the very difficult decision to find new homes for their furry friends. Rather than go through the stressful process of surrendering them to our shelter, pet guardians now have the option of using Seattle Humane's Home to Home program. This direct-to-adopter tool lets people communicate with prospective adopters, and find the right new home for their pets. The Home to Home program has had an amazing response since it launched almost a month ago, with 14 lucky pets finding new homes. Many incoming surrenders to Seattle Humane have been canceled recently, because Home to Home gave pet guardians the right tools to handle rehoming on their own. If you're needing to rehome a pet or looking to grow your family, please visit sh.home-home.org.
Adoption by Appointment: Under Seattle Humane's new adoptions-by-appointment system, prospective adopters will first be asked to identify the pet they're interested in taking home and fill out a pre-adoption questionnaire. A Seattle Humane team member will contact applicants on a first-come, first-served basis, and there will be an over-the-phone advising process to ensure they are a good match for the dog, cat, or critter they wish to adopt. Seattle Humane does not have a set timeline for when an adopter might be invited to campus for an in-person meeting with an adoption candidate, but people will have the option of placing a hold on a shelter animal in the meantime. More details about the new system are available at https://www.seattlehumane.org/adoption.
---
What's New at Feral Cat Spay/Neuter Project www.feralcatproject.org
FCSNP is back open!
The clinic will operate on a Tuesday-Friday schedule for the time being. They are prioritizing feral and free-roaming cats and appointments that were affected by the closure. Fill out a form to make an appointment. www.feralcatproject.org
---
Events and Services at Purrfect Pals https://purrfectpals.org/
Free Cat Spay and Neuter Clinic Fridays by appointment at the Purrfect Pals clinic in Arlington. Donations are encouraged but not required. Please call 360-652-9611 or email cats@purrfectpals.org to schedule an appointment.
---
Updates from MEOW www.meowcatrescue.org
Become a MEOW Guardian Angel: A "Guardian Angel" is a person who cares deeply for an adult cat or cats, but isn't in the position to adopt them. This person pre-pays the adoption fee so that when someone is interested in adopting a cat or cats, the fee is waived. At any given time, MEOW has many adult cats who have Guardian Angels, blessed by the person who wants them to find a home, there will be no adoption fee.
Vouchers for Free Public Spay/Neuter Surgeries Available through MEOW: Thanks to grant funds received, MEOW continues to provide needed spay/neuter surgery support to those in our community. Funds are available for dogs, feral or free-roaming cats, cats belonging to anyone needing financial assistance, and cats who qualify for their Toms & Moms program. If you know someone who could use their help, please have them call the shelter (425-822-6369) or email MEOW at spayneuter@meowcatrescue.org
---