Listen to Martha Norwalk's Animal World every Sunday, 9 a.m. to noon
---
Join Martha for her Understanding Your Animals Series of Classes at East West Bookshop in Seattle, 206-523-3726.
Part 1, Wednesday, April 12, 6:30-9pm, Communication with Animals. Martha teaches 4 levels of communication, with the focus bein on interspecies telepathic and empathetic communication and the basics of sending and receiving. More tools in Part 2.
Part 2, Wednesday, April 19, 6:30-9 p.m., The Human to Animal Transference. Learn how you influence your animal's health and behavior and get great tools for better communiction.
$26 each or $45 for both classes. Register at East West Bookshop.
---
Killer Whale Tales at the Northwest Stream Center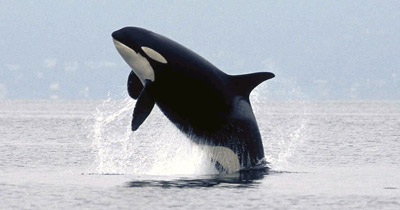 On Saturday April 1, at 1 pm, the Adopt A Stream Foundation and Snohomish County Parks are presenting Killer Whale Tales at the Northwest Stream Center in Mc Collum Park, 600-128th Street SE, Everett WA 98208. Reservations are required by calling 425-316-8592 ($5 Adopt A Stream Foundation Members, $7 non-members). In addition to seeing a fabulous killer whale event, reservation holders will be able to enjoy seeing a Trout Stream Exhibit and spring flowers next to a 1/2-mile long elevated nature trail. The Gate House will open one hour in advance for early arrivals.
Killer Whale Tales was created by Jeff Hogan who has been conducting research on the San Juan Killer Whales over the last 17 years. In addition to being a biologist, Jeff is a professional photographer and a trained actor. He puts on a "whale of a show" that has been enjoyed by more than 65,000 folks along the west coast!
Jeff is bringing the San Juan Killer Whale population to the Northwest Stream Center via amazing photographs and underwater video. After attending this show, when you see a Killer Whale in the wild, you will be able to recognize if that whale is swimming to get to another location, hunting for salmon, or just playing.
To learn about upcoming Streamkeeper Academy events go to www.streamkeeper.org
---
Save the date of June 2 for the annual Bark Benefit at the fabulous Pickering Barn in Issaquah!
Last year was a blast! Have fun and help raise crucial funds for the dogs! Every penny goes to them!
---
Animal Communicator Darcy Pariso's Upcoming Events
• Talk to the Animals, Animal Communication 101 & 102, Saturday, April 1 and 22, Daylight Healing Center, 7907 212th St SW, #101, Edmonds, WA. 101: Learn to connect, work w/behavior issues, problem solve, life purpose/jobs, tips to work w/your own animals & more. 102: Medical intuition, end of life, grief, animals in spirit, Q & A. $99/class or $175/both – $50 deposit holds your space. Register here
• Emerald Spiral Fair – Readings, Saturday, March 25, 10 a.m. – 4 p.m. Kent Commons, Kent, WA. Check out Darcy's Animal Presentation at noon
• April 17 Interview with Darcy and Martha Norwalk by Krysta Gibson on Keeping it Real
•The Seattle Pet Expo , Saturday, June 3, 10 a.m. - 5 p.m. and Sunday, June 4, 2017 11-4, Century Link Field Events Center Free Admission Bring your pet!
• Ananda Open House, Saturday, June 24, Ananda Community in Lynnwood, Snohomish County.
• Karmically Delicious Cruise - Booking Now! October 7 -14 - Mexican Riviera Metaphysical Cruise with 13 world-renowned speakers
---
Please Help the Pigs with an Urgent Winter Need!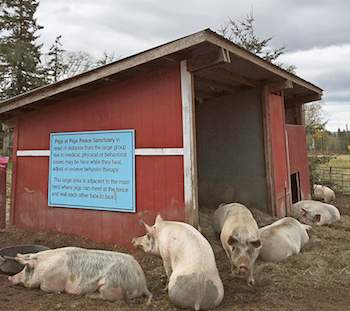 This year nine frightened, traumatized pigs arrived from an animal cruelty seizure case. Before Pigs Peace Sanctuary, their life was a windowless barn deep in feces and dead bodies of other pigs, living in close-up view of pigs being slaughtered.
Thanks to people who cared, their life changed. When they first arrived at Pigs Peace Sanctuary they were untouchable, with a look of constant fear. They stayed together as a huddled group. Slowly the look of fear faded. Life became a dream come true.
Today your help is needed! As you can see, The favorite sleeping spot is way too small for this bonded group. (They always want to sleep together and the weather is harsh without enclosing the walls.) We need to add to the roof and extend the room to close off the cold winter weather. Your donation today will directly help the dream of peace for these pigs. We need your pig love!!!
Please donate to help the pigs.
---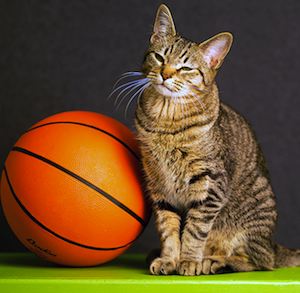 "March Meowness," has arrived at Homeward Pet Adoption Center
...and all month long adopters are sprinting to the shelter to find their next all-star feline for a discounted adoption fee!

Now through March 31, all cats over 2 are a sweet $16 off!

Homeward Pet has an entire bracket of superstars who are competing head-to-head to steal hearts and win homes. The shelter has jumpers, dribblers, some with the finesse of an athlete and others who prefer warming the bench. Let Homeward Pet assist you on finding your next MVP (Most Valuable Purrer) during its "March Meowness" celebration!

Take a time-out and see Homeward Pet's full roster of available cats at homewardpet.org.
---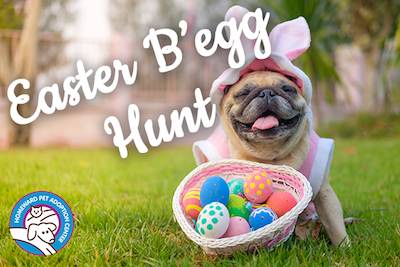 Hop on over to Homeward Pet's 10th Annual Easter B'egg Hunt!
On Saturday, April 8, join Homeward Pet for a day of fun and frolic at Camp Charlie's Private Off-Leash Park in Duvall. From 11am to 2pm dogs of every shape and size will romp and roam the fields in search of dog treat stuffed eggs!
Admission to this event is free, but monetary donations are encouraged to benefit the homeless animals in our care.
---
It's Fur Ball Fever!
The date is set (Saturday, April 15, 2017) and registration is live for Homeward Pets' Annual Fur Ball Auction and Dinner! Join animal lovers like you for a magical evening that will touch hearts and change lives. Grab your tickets today!
---
Eat for Cats!
Registration for the Spayghetti and No Balls dinner is now open!! Please join Feral Cat Spay and Neuter Program in celebrating theor 20-year anniversary in saving lives through spay and neuter. All are welcome!
Last year they sold out, so register soon!
Sponsor a Spay for $25 and you can enjoy an all you can eat spaghetti, salad, and garlic bread. (Vegetarian, vegan, and gluten-free options will all be available.) Don't forget to top it off with a dessert during the Dessert Dash or a glass of wine/beer to go with your meal.
Sunday, April 23, 2017 from 5pm to 8pm, Factory Luxe in the Old Rainier Factory. 3100 Airport Way S, Seattle, WA 98134!
Questions? Call: 425-673-2287.
---
Feral Cat Spay/Neuter Project and Pasado's Safe Haven collaborate on transportation to increase access to spay/neuter in Snohomish County. Pick-up is at Sultan Red Apple Market. For more information and make a reservation visit FCSNP's website and Facebook page
---
At Purrfect Pals:
Free cat spay and neuter clinic Fridays by appointment at The Purrfect Pals clinic in Arlington. Donations are encouraged but not required. Email cats@purrfectpals.org or call 360-652-9611 to schedule an appointment.
---
Mark Your Calendar for Tuxes and Tails
Join Seattle Humane for an evening of fabulous food and wine, action-filled biddingm and the signature celebrity and pet runway show, May 18, 2017, at Meydenbauer Center in Bellevue.
A thousand animal lovers will gather for an evening of fabulous food and wine, and bid on exclusive live and silent auction items to benefit Seattle Humane. The highlight of the evening is the celebrity pet runway show starring celebrities and our adoptable dogs and cats.
General event tickets start at $250 and include: silent auction and pre-event cocktail festivities, gourmet four-course meal, live auction, celebrity pet runway show.
Once again, guests have the option of purchasing a cocktails-only: 'Tinis & Tails - ticket for $125. 'Tinis & Tails guests will be able to bid on silent auction items, enjoy all of the pre-dinner festivities, including the Hidden Wine Pull and a Kitten Cuddle Booth!
This year guests have an opportunity for a special add-on opportunity to meet Seahawk Michael Bennett! This unique experience includes: photograph with Michal Bennett , personalized autographed football, access to private lounge for two with open bar between 4:30-6:30 p.m. Limited availability. Tickets are $500.
Can't attend this year? Make a donation to the animals or donate an item to the auction. Learn how at Tuxes & Tails or call (425) 373-5388. For more information visit seattlehumane.org
---
Critter Living Kiddo Events with Seattle Humane:

Preschool Pets: Bring your kids ages 4-5 for an hour of companion animal fun and learning with Seattle Humane at Crossroads Mall. Storytime and crafts, animal-themed games and songs, meet with lovable shelter pets, meet other animal-loving families. Held at Crossroads Mall Community Room, 15600 NE 8th St., Bellevue, WA 98008. $10 per child, per session. For dates, times, and information visit the Seattle Humane website
Kitty Literature - Children ages 5-10 can practice their reading skills with the supportive, comforting audience of cats at Seattle Humane Society! This is a fun way for kids to practice reading, and positive interaction with pets. Held Mon-Wed, 3-6 p.m. (20-min sessions) at Seattle Humane Society, 13212 SE Eastgate Way. Bellevue, WA 98005. Free to register! Registration is required and limited sessions are offered on a first-come, first-served basis. For more information or to register, visit the Seattle Humane website
---
Events at MEOW
Become a MEOW Guardian Angel: A "Guardian Angel" is a person who cares deeply for an adult cat or cats, but isn't in the position to adopt them. This person pre-pays the adoption fee so that when someone is interested in adopting a cat or cats, the fee is waived. At any given time, MEOW has many adult cats who have Guardian Angels, blessed by the person who wants them to find a home, there will be no adoption fee.
Vouchers for Free Public Spay/Neuter Surgeries Available through MEOW
Thanks to grant funds received, MEOW continues to provide needed spay/neuter surgery support to those in our community. Since receiving their first grant mid 2010, they have funded over 2400 spay/neuter surgeries. Funds are available for dogs, feral or free-roaming cats, cats belonging to anyone needing financial assistance, and cats who qualify for their Toms & Moms program. While MEOW has often provided monetary support for community members needing financial assistance or those managing feral cat colonies, these additional grant funds help them do more. If you know someone who could use their help, please have them call the shelter (425-822-6369) or email MEOW at spayneuter@meowcatrescue.org
---
Seattle Animal Shelter Pet Loss Support Group meets on Thursday evenings from 6 to 7:30 p.m. at the Shelter. The meetings are free. For more information call (206) 386-7387 and press #3. www.seattleanimalshelter.org.
---
Free spaying/neutering available for parent dogs and cats at Seattle Animal Shelter
As part of an ongoing program, anyone who brings a litter of puppies or kittens to the Seattle Animal Shelter is eligible to have the parent animals spayed or neutered for free. As long as donors continue to support the Pet Population Control Fund, the offer will continue indefinitely. For more information about this free spay and neuter program and other Seattle Animal Shelter services, call (206) 386-PETS (7387). 49-7560 or online at seattlehumane.org/fix
---
If you would like to foster cats and kittens for Seattle Animal Shelter plan to attend a free foster cat orientation at Seattle Animal Shelter, held on the first Saturday of each month from noon to 1 p.m. Sign up by email at sasfostercatorientation@gmail.com. Pre-registration is required. For more information call 206-386-PETS.
---
N.O.A.H. and Feral Cat Spay/Neuter Project offering low rates for cat spay/neuter surgeries!
N.O.A.H. Animal Adoption and Spay/Neutear Center is now offering feline spay/neuter surgeries for only $10 to people regardless of location. N.O.A.H. also is now altering any feral or free roaming cat free! Other needed vaccines and tests are also offered at very low rates. For more information, visit N.O.A.H.'s web page at www.thenoahcenter.org/
---
Missing Pet Partnership seeks volunteers and donations for Zeke's surgery
The Missing Pet Partnership, a non-profit organization, seeks donations and volunteers to continue their work and pay for Zeke, K9 Pet Detective's surgery. Send your donations to PO Box 3085, Federal Way, WA 98063. For more info visit www.missingpetpartnership.org
---
Pet Loss Support Group meets on Saturday mornings at 10 a.m. at the Humane Society in Bellevue. More more information visit seattlehumane.org or call 425-641-0080.
---