Listen to Martha Norwalk's Animal World every Sunday, 9 a.m. to noon
---
Missy's Rescue and Animal Talk has closed the doors. The physical location is gone, but the need for help is still URGENT.

Please help Missy's Rescue! Past rent is overdue and supplies for fosters are depleted. You can donate through Paypal at www.paypal.me/missysrescue or send $$$ to Missy's Rescue, 11410 NE 124th St., #439, Kirkland, WA 98034. Pie Rent Raffle for past rent is happening now! For every $25 donated you get a ticket in the raffle.
Please help if you can and call Missy to donate by phone! Donate through either of the above methods, or call Missy at 206-356-8245.
---
Upcoming Event with Linda Rasmussen, CEO and founder of Vertical Energy Worldwide, www.verticalenergyworldwide.com
Free Talk and Demonstration: "What is B.E.S.T.?" Wednesday, January 22, 7 p.m.
See for yourself: our thoughts can make us sick, or well. Presnted by Linda Rasmussen of Vertical Energy. At IntraSpace, at the Old Rainier Brewery, 3100 Airport Way South. Space is limited. Register no later than 5 p.m. on February 5, by calling or texting to 206-841-1992.
FREE Family B.E.S.T. Class, Thursday, February 6, 7-9 p.m.
Learn a simple, powerful technique to provide energetic balance to your children, spouse or parent. Join Linda Rasmussen for this free, hands-on, class! At IntraSpace, at the Old Rainier Brewery, 3100 Airport Way South. Space is limited. Register no later than 5 p.m. on February 5, by calling or texting to 206-841-1992.
Linda is giving a free introductory treatment to all who ask. This can be done in-person or at her office or remotely. Call or text to 206-841-1992.
---
Upcoming Events at the NW Stream Center
McCollum Park, 600 128th At. SE, Everett, 98208; 425-316-8592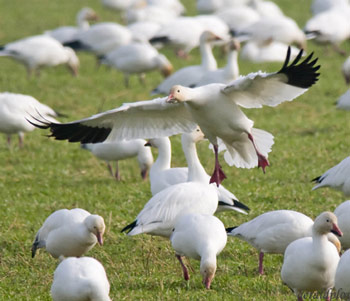 White Birds of Winter
The White Birds of Winter are here! Thousands of Trumpeter and Tundra Swans and Snow Geese have migrated from Alaska and Canada to feed in the farm fields of Washington. On Thursday, January 23 at 7pm, Martha Jordan will be presenting a spectacular slide show about these magnificent birds at the Adopt A Stream Foundation's Northwest Steam Center in Snohomish County's Mc Collum Park (600 – 128th Street SE, Everett, WA 98208). Registration is required by calling 425-316-8592; $5 for Adopt A Stream Foundation members, $7 for non-members.
Martha Jordan is the Executive Director of the Northwest Swan Conservation Association. During the show that is geared to middle school students to adults, she will explain the myths and share the facts about these beautiful birds. You will learn about swan and snow geese life history, biology, and the problems and controversies migratory birds face on their Washington State wintering grounds including lead poisoning and habitat destruction. Martha will teach you how to tell these birds apart and where you can go to see them now! At this event, you will also be able to pick up a Swan Identification Pamphlet that will be useful on your next local bird watching excursion.
---
Pigs Peace Sanctuary needs your help in this tough winter in the Pacific Northwest. To help, go to www.pigspeace.org to donate, or mail to Pigs Peace Sanctuary, PO Box 295, Stanwood, WA 98292.
Your donations will: Stock fresh hay, over and over again; buy soy milk by the case to keep pig Honey and any physically challenged pigs hydrated; help with replacement and repairs of weather damaged equipment; and much more!
---
Upcoming events for NW Canine Coalition:
New weekly segment on KING 5/KONG 6: Canine Rescue of the Week," Fridays at 7:45 a.m.
First Saturday of every month: Spotlight on Dogs, King 5, 6:45 am and again through the broadcast.
Follow them on FB, Instagram, and Twitter for Updates
---
Upcoming Events for Pawsitive Alliance
Pawsitive Alliance is collecting new and gently-used harnesses, leashes, collars, sweaters, coats, and rainjackets, etc., for dogs and cats of Seattle area homeless. Drop off items at Health Mutt, 1207 NE 65th St., Seattle, 98115; or Denny's Pet World, 13123 NE 124th St., Kirkland, WA 98034
---
Join Darcy Pariso for Animal Soul Wisdom Radio, 2nd and 4th Thursdays

Every second Thursday, February 13, at 11 am Pacific, on KKNW 1150 AM in Seattle https://1150kknw.com/listen/ and Transformation Talk Radio. Call in 1-800-930-2819.
Every fourth Thursday, January 23, 2 pm Pacific, with guest Robin Alexis, on Transformation Talk Radio. Call in 1-800-930-2819.
Visit Darcy at https://darcypariso.com/ or at her Facebook page, Angels and Animals.
---
Events at Seattle Humane www.seattlehumane.org
Movie Night, February 14
Need a night out? Drop your kids off for Movie Night! Includes pizza, a pet-themed G/PG film, refreshments, and a good time. More information and register here.
Tuxes & Tails, May 9, 5 p.m., Hyatt Regency, Bellevue
Save the date and join Seattle Humane for a glitzy evening including a gourmet dinner, exciting auctions and an adoptable pet runway show, all to raise critically-important funds for homeless pets! Tickets go on sale March 1, 2020. More info.
Kitty Literature offers the opportunity for 5-10 year olds to help socialize Seattle Humane's cats by reading to them. Participants can read to cats in the community adoption rooms for 20 minute sessions. What better way for your child to help animals and improve upon their own skill set!, More info and register at seattlehumane.org
---
Events and Services at Purrfect Pals
Free cat spay and neuter clinic Fridays by appointment at The Purrfect Pals clinic in Arlington. Donations are encouraged but not required. Email cats@purrfectpals.org or call 360-652-9611 to schedule an appointment.
---
Updates from MEOW www.meowcatrescue.org
2020 Calendars are now available at the shelter or online. $10 if you pick up, $12 if shipped.
Mark your calendar for the 15th Annual Fine Wines and Felines Auction and Fundraiser, Saturday, June 20, 2020.
Become a MEOW Guardian Angel: A "Guardian Angel" is a person who cares deeply for an adult cat or cats, but isn't in the position to adopt them. This person pre-pays the adoption fee so that when someone is interested in adopting a cat or cats, the fee is waived. At any given time, MEOW has many adult cats who have Guardian Angels, blessed by the person who wants them to find a home, there will be no adoption fee.
Vouchers for Free Public Spay/Neuter Surgeries Available through MEOW: Thanks to grant funds received, MEOW continues to provide needed spay/neuter surgery support to those in our community. Funds are available for dogs, feral or free-roaming cats, cats belonging to anyone needing financial assistance, and cats who qualify for their Toms & Moms program. If you know someone who could use their help, please have them call the shelter (425-822-6369) or email MEOW at spayneuter@meowcatrescue.org
---
Seattle Animal Shelter Pet Loss Support Group meets on Thursday evenings from 6 to 7:30 p.m. at the Shelter. The meetings are free. For more information call (206) 386-7387 and press #3. www.seattleanimalshelter.org.
---
Free spaying/neutering available for parent dogs and cats at Seattle Animal Shelter
As part of an ongoing program, anyone who brings a litter of puppies or kittens to the Seattle Animal Shelter is eligible to have the parent animals spayed or neutered for free. As long as donors continue to support the Pet Population Control Fund, the offer will continue indefinitely. For more information about this free spay and neuter program and other Seattle Animal Shelter services, call (206) 386-PETS (7387). 49-7560 or online at seattlehumane.org/fix
---
If you would like to foster cats and kittens for Seattle Animal Shelter plan to attend a free foster cat orientation at Seattle Animal Shelter, held on the first Saturday of each month from noon to 1 p.m. Sign up by email at sasfostercatorientation@gmail.com. Pre-registration is required. For more information call 206-386-PETS.
---
N.O.A.H. and Feral Cat Spay/Neuter Project offering low rates for cat spay/neuter surgeries!
N.O.A.H. Animal Adoption and Spay/Neutear Center is now offering feline spay/neuter surgeries for only $10 to people regardless of location. N.O.A.H. also is now altering any feral or free roaming cat free! Other needed vaccines and tests are also offered at very low rates. For more information, visit N.O.A.H.'s web page at www.thenoahcenter.org/
---
Pet Loss Support Group meets on Saturday mornings at 10 a.m. at the Humane Society in Bellevue. More more information visit seattlehumane.org or call 425-641-0080.
---