Listen to Martha Norwalk's Animal World every Sunday, 9 a.m. to noon
---
Secure and safe international website/charity to donate to help animals of Ukraine:
https://www.oipa.org/international/ukraine-emergency-also-for-animals
---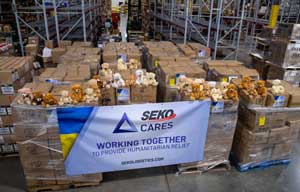 NEW! Operation Teddy Bear Lift – WARM 106.9.com:
Hubbard Radio Seattle, along with some amazing corporate donors, is sending over 10,000 teddy bears to children displaced and orphaned due to the war in Ukraine. We are also raising money for Ukraine Association of Washington State, which is using the funds to deliver neonatal incubators. The incubators are badly needed following the destruction of so many medical facilities across the war-torn country.
Please donate, forward, post and share this link with as many as possible. Thanks! Operation Teddy Bear Lift – WARM 106.9 (warm1069.com)
---
Upcoming Event with Linda Rasmussen, CEO and founder of Vertical Energy Worldwide, www.verticalenergyworldwide.com
Linda is giving a free introductory treatment to all who ask. This can be done in-person or at her office or remotely. Call or text to 206-841-1992 or to Linda at linda@verticalenergyworldwide.com
---
Classes with Natasha Venter, www.AngelicClarifications.com
A frequent guest on Martha's show, Natasha offers classes on a variety of subjects.
NEW! Live Shows Weekly on FB or YouTube Channel:
The Dance of the Soul, every Monday at 4pm PDT, with Regan Forsten
Life Clarifications with Natasha, every Wednesday at 4pm PDT, Natasha talks about life and strategies and how to navigate this world.
Awakening Your Intuitive Gift, 6 classes over a 3-month period, 30 min. to one-hour classes. Understand how and why you receive information and the messages you have been receiving, discover tools to use inside and out of you to navigate the world, and have conversations to support the individual walk of your gifts. You can take this course in a group or individually and Natasha will schedule you accordingly. Call or email her to get started. $150. natasha@angelicclarifications.com
Bringing Light to the Shadow World, 6 classes over a 3-month period, 30 min, to 1 hour classes. Understand the shadow in you (emotions, traumas, hidden internal aches) and how it relates to everday life, integrate light into your shadow world, and learn how to stay the course through the shadows. You can take this course in a group or individually and Natasha will schedule you accordingly. $150. natasha@angelicclarifications.com
For more information on the classes above, visit www.angelicclarifications.com. For Paypal and Zoom links, contact her at natasha@angelicclarifications.com or 360-770-7486.
---
Upcoming Events at the Northwest Stream Center
McCollum Park, 600 128th At. SE, Everett, 98208
425-316-8592
https://www.streamkeeper.org/ .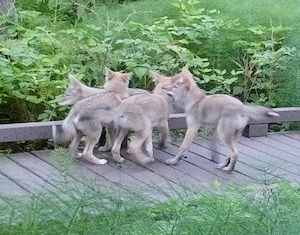 NEW: Recently four coyote pups were observed on an adventure by motion camera on the NWSC's Nature Walk. You can have your own adventure on the 1/2-mile-long Northwest Stream Center's Nature Walk. Wander past a ;Trout Stream Exhibit with viewing windows where to see cutthroat trout, sculpins, Salish suckers, fresh water mussels, and crayfish - a highlight for kids! Then go onto an Elevated Forest and Wetland Walk winding through 25-acres of deep forests and wetlands three feet above the forest floor and surrounding wetlands. The Nature Walk is universally accessible and, if you have the need, a wheelchair can be provided. The end of your adventure is the Northwest Stream Center Nature Store In that wonderful small space (not outdoors), face masks are required so please bring a mask with you. To make a reservation go to www.streamkeeper.org or call the Adopt A Stream Foundation at 425-316-8592. Anyone under 18 has to be accompanied by a responsible adult. Sorry, the only dogs allowed at the Northwest Stream Center are coyotes.
The Adopt A Stream Foundation is thrilled to be the beneficiary for the 3rd year in a row, of a collaborative yoga event hosted by local yoga instructor Anna Johnson! This event is sponsored by Lululemon Alderwood Mall, Fusion Hot Yoga (Bothell, WA), and Stoup Brewing Kenmore! This event is going to be held at The Hangar at Kenmore Town Square (6728 NE 181st Street, Kenmore,) on Saturday July 23, 10-11 a.m. $35 per person as a donation, (You can of course donate more if you would like!) and children are free! After yoga, we'll enjoy lite-bites and refreshments from award winning Stoup Brewing, all to support the Adopt-A-Stream Foundation! Bring your friends, a mat, and get ready for some fun in the sun! https://yogaatthehangar2022.splashthat.com/
The Northwest Stream Center is open to the public Tuesdays-Saturday, 10 a.m. to 4 p.m. Advance reservations are required on a 15-minute schedule, with visitors limited to one group (up to 5 people) every 15 minutes to ensure adequate social distancing as well as nature's solitude! Face covering required for entry. Select a time slot for reservation and arrive early at the Northwest Stream Center Gate House. Admission will be collected upon arrival. AASF Members: Free admission
Check out Streamkeeper Volunteer Opportunities and their student internship opportunities! Adopt A Stream Foundation is now ready to accept interns who are looking for some real world experience in the field of natural resources, environmental science, stream and wetland ecology, STEM and the like. Learn more about opportunities and the application process at
streamkeeper.org/internship-opportunities.
---
Upcoming Events for Pawsitive Alliance
www.pawsitivealliance.org
Ridwell supply drive, July 11 - 22. Pawsitive Alliance is partnering with Ridwell on a pet clothing and canned food drive with their Seattle clients. Learn more about Ridwell on their website.


Old Dog Haven Festival, Saturday, July 16, Shoreline. Visit the Pawsitive Alliance booth for a free custom ID tag. Learn more about the festival on their website.


Save the Date! Pawsitive Alliance's annual auction will be virtual again this year and will run from October 1- 9! More details soon.
---
Upcoming Events for Homeward Pet Adoption Center
https://www.homewardpet.org/
Mark your calendar for Homeward's Pet Open House, Friday, August 26
Homeward Pet is open by appointment. To provide a safe environment for their staff, volunteers and adopters during the coronavirus pandemic, Homeward Pet is doing adoptions by appointment only. Because of the limited number of appointments and reduced Adoption Counseling staff, you will be asked to submit an application for a specific animal. Applications will be considered in the order received. Initial counseling will take place by phone, and appointments to meet animals will be scheduled during those calls. More info: https://www.homewardpet.org/how-to-adopt/
---
Events at Seattle Humane www.seattlehumane.org
Walk in customers are now welcome to come to the shelter noon to 6 pm daily.
Public Spay and Neuter Services Now Available. Sign up online at the Spay and Neuter page of the website.
Home to Home Program: Keeping Pets Out of the Shelter
Seattle Humane is working hard to keep families together through its community outreach programs, but sometimes pet guardians have to make the very difficult decision to find new homes for their furry friends. Rather than go through the stressful process of surrendering them to our shelter, pet guardians now have the option of using Seattle Humane's Home to Home program. This direct-to-adopter tool lets people communicate with prospective adopters, and find the right new home for their pets. The Home to Home program has had an amazing response since it launched almost a month ago, with 14 lucky pets finding new homes. Many incoming surrenders to Seattle Humane have been canceled recently, because Home to Home gave pet guardians the right tools to handle rehoming on their own. If you're needing to rehome a pet or looking to grow your family, please visit sh.home-home.org.
---
What's New at Feral Cat Spay/Neuter Project www.feralcatproject.org
FCSNP is back open! The clinic is now operating on a Monday through Thursday schedule.
---
Events and Services at Purrfect Pals https://purrfectpals.org/
Free Cat Spay and Neuter Clinic Fridays by appointment at the Purrfect Pals clinic in Arlington. Donations are encouraged but not required. Please call 360-652-9611 or email cats@purrfectpals.org to schedule an appointment.
---
Updates from MEOW www.meowcatrescue.org
MEOW is now open for walk ins on Saturday and Sunday afternoons, 1 to 5 p.m. (Advanced appointments are highly recommended, and visitors are required to wear masks, use sanitizer provided, and practice social distancing.) 10600 NE 68th St., Suite F, Kirkland, WA 98033.
Become a MEOW Guardian Angel: A "Guardian Angel" is a person who cares deeply for an adult cat or cats, but isn't in the position to adopt them. This person pre-pays the adoption fee so that when someone is interested in adopting a cat or cats, the fee is waived. At any given time, MEOW has many adult cats who have Guardian Angels, blessed by the person who wants them to find a home, there will be no adoption fee.
Vouchers for Free Public Spay/Neuter Surgeries Available through MEOW: Thanks to grant funds received, MEOW continues to provide needed spay/neuter surgery support to those in our community. Funds are available for dogs, feral or free-roaming cats, cats belonging to anyone needing financial assistance, and cats who qualify for their Toms & Moms program. If you know someone who could use their help, please have them call the shelter (425-822-6369) or email MEOW at spayneuter@meowcatrescue.org
---