Listen to Martha Norwalk's Animal World every Sunday, 9 a.m. to noon
---
Upcoming Event with Linda Rasmussen, CEO and founder of Vertical Energy Worldwide, www.verticalenergyworldwide.com
Linda is giving a free introductory treatment to all who ask. This can be done in-person or at her office or remotely. Call or text to 206-841-1992 or to Linda at linda@verticalenergyworldwide.com
---
Upcoming Events at the Northwest Stream Center
McCollum Park, 600 128th At. SE, Everett, 98208; 425-316-8592
https://www.streamkeeper.org/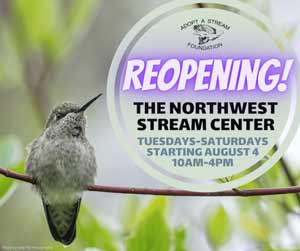 The Northwest Stream Center is pleased to announce that they are back open to the public Tuesdays-Saturday, 10 a.m. to 4 p.m. Advance reservations are required on a 15-minute schedule, with visitors limited to one group (up to 5 people) every 15 minutes to ensure adequate social distancing as well as nature's solitude! Face covering required for entry. Select a time slot for reservation and arrive early at the Northwest Stream Center Gate House. Admission will be collected upon arrival. AASF Members: Free admission
Check out Streamkeeper Volunteer Opportunities and their 2020 student internship opportunities! Adopt A Stream Foundation is now ready to accept interns who are looking for some real world experience in the field of natural resources, environmental science, stream and wetland ecology, STEM and the like. Learn more about opportunities and the application process at
streamkeeper.org/internship-opportunities
The Nature Store at the Northwest Stream Center is open for e-commerce!
The Adopt A Stream Foundation is extremely excited to announce that The Nature Store is now open for business via E-commerce! You will find a collection of book titles pertaining to the environment, ecosystems, regional nature guides and children's books in their online shop, as well as AASF gear and merch. All of the proceeds from these sales support operations at the Northwest Stream Center and enable the Adopt A Stream Foundation to continue its mission through Streamkeeper Academy environmental education programming and habitat restoration projects. https://www.streamkeeper.org/s/shop
---
Upcoming events for NW Canine Coalition:
Weekly segment on KING 5/KONG 6: Canine Rescue of the Week," Fridays at 7:45 a.m.
First Saturday of every month: Spotlight on Dogs, King 5, 6:45 am hour and again through the broadcast.
Follow them on FB, Instagram, and Twitter for Updates
---
Upcoming Events for Pawsitive Allliance www.pawsitivealliance.org
(Dates and information subject to change)
September 19: Paws in the Park, Lake Sammamish State Park, 11 a.m. to 3 p.m.
March 27, 2021: Gala for a Pawsitive Future, Bothell
December 5, 2021: Shelter Open House
---
Homeward Pet Adoption Center Update on Reopening
Homeward Pet is open by appointment. Visitors to the shelter for adoption appointments also have the responsibility to wear appropriate personal protective equipment (PPE) and maintain social distancing of 6 feet. For Homeward Pet, necessary PPE includes wearing a mask. In addition, all visitors will have their temperature checked with a no-touch, infrared thermometer. Any visitors with a fever over 99.9 will have their appointments rescheduled. Animals available for adoption will also be posted to their website and our website will continue to be updated as new animals are made available. All in-person appointments to meet with a cat or dog will take place on a Saturday or Sunday. More info: https://www.homewardpet.org/
---
Events at Seattle Humane www.seattlehumane.org
Seattle Humane is closed to the public. Please keep checking the website.
Home to Home Program: Keeping Pets Out of the Shelter
Seattle Humane is working hard to keep families together through its community outreach programs, but sometimes pet guardians have to make the very difficult decision to find new homes for their furry friends. Rather than go through the stressful process of surrendering them to our shelter, pet guardians now have the option of using Seattle Humane's Home to Home program. This direct-to-adopter tool lets people communicate with prospective adopters, and find the right new home for their pets. The Home to Home program has had an amazing response since it launched almost a month ago, with 14 lucky pets finding new homes. Many incoming surrenders to Seattle Humane have been canceled recently, because Home to Home gave pet guardians the right tools to handle rehoming on their own. If you're needing to rehome a pet or looking to grow your family, please visit sh.home-home.org.
Save the Date for Seattle Humane's Next Estate Planning Workshop.
On Wednesday, August 12, from 10 to 11:30 am, Seattle Humane, Northwest Harvest, The Museum of Flight and Rainier Scholars will host the second session of their Estate Planning Workshop series, "Stepping Stones of Estate Planning: Selecting Advisors and Creating Your Plan." During this Zoom workshop, a panel of health and legal professionals will provide information on what you should consider in selecting those individuals who will help execute your estate planning and health care directive, as well as the kind of plan to create that is appropriate for your needs. Watch your email for further details to be provided at a later date. Space will be limited. In the meantime, to learn more about how you can support animals who need us most for years to come, visit myimpact.seattlehumane.org, or contact Scott Fraser, Esq., Seattle Humane's Major and Planned Giving Director at (425) 373-5387.
Adoption by Appointment: Under Seattle Humane's new adoptions-by-appointment system, prospective adopters will first be asked to identify the pet they're interested in taking home and fill out a pre-adoption questionnaire. A Seattle Humane team member will contact applicants on a first-come, first-served basis, and there will be an over-the-phone advising process to ensure they are a good match for the dog, cat, or critter they wish to adopt. Seattle Humane does not have a set timeline for when an adopter might be invited to campus for an in-person meeting with an adoption candidate, but people will have the option of placing a hold on a shelter animal in the meantime. More details about the new system are available at https://www.seattlehumane.org/adoption.
Tuxes & Tails will be a Virtual Event, September 26
"While our hope had been to gather in person this fall, we believe moving forward with a large gathering would not best serve our community. Instead, Tuxes & Tails will happen in a virtual format and will be a fun and interactive experience for everyone, and an opportunity to connect with the other animal lovers and philanthropists who support Seattle Humane each year. We hope you will join us in celebrating how much we have accomplished under extraordinary circumstances, and supporting the work we continue to do and expand upon. The September 26 gala will include a live auction (with some incredible wine lots you won't want to miss!), the critically-important Fund A Need, adoptable animals, and more! For those of you who have already purchased tickets for the event, please consider converting that ticket purchase to a donation. If you would rather receive credit for a ticket purchase to attend Tuxes & Tails 2021, or receive a refund, please email. For all ticket holders, you will have additional benefits for our virtual event, based on ticket level." Tickets and more info.
---
What's New at Feral Cat Spay/Neuter Project www.feralcatproject.org
FCSNP is back open!
The clinic will operate on a Tuesday-Friday schedule for the time being. They are prioritizing feral and free-roaming cats and appointments that were affected by the closure. Fill out a form to make an appointment. www.feralcatproject.org
---
Events and Services at Purrfect Pals https://purrfectpals.org/
Purrfect Pals is currently open by appointment only. The team at Purrfect Pals is taking extra measures to ensure the well-being of staff, volunteers, and the cats in their care. To limit foot traffic into the shelter, they are closed to the public for casual visits and available by appointment only for other services until further notice. Please call 360-652-9611 or email cats@purrfectpals.org.
Free Cat Spay and Neuter Clinic Fridays by appointment at the Purrfect Pals clinic in Arlington. Donations are encouraged but not required. Please call 360-652-9611 or email cats@purrfectpals.org to schedule an appointment.
---
Updates from MEOW www.meowcatrescue.org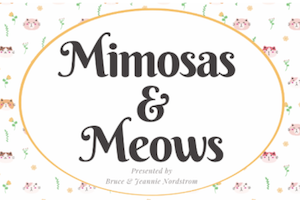 Mimosas and Meows: Auction Open Sept. 23 to Oct 1, 2020, Live Stream Event Sept 26, 2020
MEOW invites you to join them around the digital table for their online fundraising auction, Mimosas and Meows! They'll have a live streamed, brunch themed event the morning of Sept. 26, and an online auction open from Sept 23 through Oct 1. Anyone can join in and participate, no tickets are required. Watch kittens play while supporting a great cause! A "Brunch in a Box" will also be available for those who really want to get in the spirit, even while far apart! (Local delivery only, details and registration coming soon.) To learn more about this event, go here: www.feralcatproject.org/brunch. Additional details coming soon.
Become a MEOW Guardian Angel: A "Guardian Angel" is a person who cares deeply for an adult cat or cats, but isn't in the position to adopt them. This person pre-pays the adoption fee so that when someone is interested in adopting a cat or cats, the fee is waived. At any given time, MEOW has many adult cats who have Guardian Angels, blessed by the person who wants them to find a home, there will be no adoption fee.
Vouchers for Free Public Spay/Neuter Surgeries Available through MEOW: Thanks to grant funds received, MEOW continues to provide needed spay/neuter surgery support to those in our community. Funds are available for dogs, feral or free-roaming cats, cats belonging to anyone needing financial assistance, and cats who qualify for their Toms & Moms program. If you know someone who could use their help, please have them call the shelter (425-822-6369) or email MEOW at spayneuter@meowcatrescue.org
---