Listen to Martha Norwalk's Animal World every Sunday, 9 a.m. to noon
---
Ananda Community Annual Open House and Summer Solstice Celebration, Saturday, June 24, 2-7 p.m. This fun and free event features community tours, children's activities, over 20 vendors, free food all day, plus a free vegetarian dinner after the solstice event. Krysta Gibson, from New Spirit Journal, will be the keynote speaker! 20715 Larch Way, Lynnwood, WA 98035.
Martha will be at the welcome booth... hope you can drop by!
---
Seattle Animal Shelter conducting emphasis patrols on saltwater beaches
Dogs are not allowed on beaches to ensure protection of wildlife
Spring is blossoming and hatching in Seattle, and now is a particularly important time to ensure that immature wildlife have their best opportunity to flourish in the Northwest. Because of this, the Seattle Animal Shelter will be conducting emphasis patrols on all saltwater beaches in the city.
Dogs are not allowed on any of Seattle's public saltwater beaches, whether leashed or unleashed. This law helps to protect the fragile ecosystem along our shorelines. Marine mammals, such as seal pups who are typically born in April, use the city's beaches to rest and warm themselves. Shore birds also frequent our beaches. Wildlife that interact with dogs are less likely to reach adulthood.
Uniformed animal services officers will be patrolling city parks with a focus on saltwater beaches and may issue citations to violators. If you would like to report Seattle beaches where dogs are frequently seen, please submit a service request at http://bit.ly/sas-service-request. You can also contact the shelter directly by calling 206-386-PETS (7387) or by visiting www.seattleanimalshelter.org..
---
New at Homeward Pet Adoption Center
Free Microchip Month, June 1-27. This June, Homeward Pet Adoption Center is offering FREE microchips in anticipation of Independence Day, the time of year when the most pets go missing from their homes. Dates, times, and details on the website.
9 Lives for $9, June 17-25, at Homeward Pet Adoption Center. In celebration of Adopt A Shelter Cat Month, all Homeward Pet felines are just $9 between June 17 and 25. Don't miss out on this "catastic," promotion and start the summer off right with a new feline companion of your very own. See website for more details.
Save The Date: The Bow Wow Luau, Saturday, July 29, Northwest Cellars , Kirkland, WA
Save The Date: The Happy Tails Wine Walk! Sunday, September 17, Hollywood Wine District, Woodinville, WA.
---
Welcome to Subirdia - Sharing our Neighborhoods with Wrens, Robins, Woodpeckers, and other Wildlife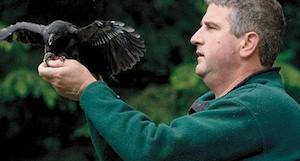 On Thursday, June 29, at 7pm, at the Adopt A Stream Foundation's Northwest Stream Center in Snohomish County's Mc Collum Park (600 –128th Street SE, Everett WA 98208), University of Washington Wildlife Science researcher John Marzluff will be sharing a surprising discovery: the suburbs of many large cities support incredible biological diversity. Space is limited for this wildlife event, so call 425-316-8592 for reservations; $5 AASF members, $7 non-members. "Early birds" are guaranteed seats and those who arrive between 6pm and 6:30pm can also stroll on the Northwest Stream Center Elevated Nature Walk.
John Marzluff, is the author or co-author of more than 130 scientific papers and several books including In Company of Crows and Ravens, Gifts of the Crow, Dog Days and Raven Nights, and his newest book, Welcome to Subirdia. John is a renowned ornithologist and urban ecologist featured often on Public Broadcasting television shows, and he is an very entertaining speaker.
There will be a book signing after this educational and entertaining presentation. For information on other upcoming Streamkeeper Academy events go to www.streamkeeper.org
---
Join ARF for The Rockin' Paw
Come run, come walk the Rockin Paw Walk N Run 1K/5K October 7 at Langdon Park across from the Everett Animal Shelter. All proceeds benefit the care of the animals at the shelter. Bring your family and friends. All furry ones welcome! Visit the ARF website for additional info.
---
Missy's Rescue Annual Parking Lot BBQ… You're invited!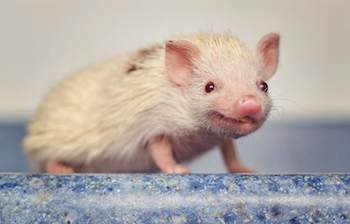 Sunday June 25, 2 PM, Missy's Rescue, 12322 Lake City Way NE, 206-526-1558. Alex is strapping on his apron; maybe he will make some of his awesome pies! Bring your favorite dish. Vegan Challenge! Bring it on! Bring your favorite BBQ food! Come meet other adopters, volunteers and student volunteers and fosters . Learn why Missy's is so different from other shelters!
The perfect way to network with crazy fun animal people! Bring your business cards and/or brochures. They will have a table set-up. (in case it's windy bring something that will hold them down, like a clipboard or a rock). Vintage jewelry sale! Microchip Clinic $15 includes registration. Keeping your pets safe!
For more information visit MissysRescue.Org
---
Save the date for the 2017 Poochapalooza, Saturday, July 8, 10 a.m. at Asbery Field In Marysville.
11th Annual Poochapalooza Outdoor Dog Event, M-Dog's fundraiser to benefit Strawberry Fields off-leash dog park, is the largest canine event in Snohomish County, and there is something for every dog! Wiener Dog races, other races (top winners take home trophies), pie eating contest for dogs, and some new contests this year. Other events include lure coursing, barn hunting, CGC testing, nail clipping, fashions and rescues runway dog show showcasing adoptable dogs from several local rescue groups, and much more. 60-plus vendors, food booths, free entry and parking. 400 "wag bags," raffle booth, and more! Check out the website for details.
---

Join Kitsap Humane Society for Petswalkl!
Kitsap Humane Society (KHS) is proud to announce the 24th annual PetsWALK will be held in Downtown Poulsbo on July 15, 2017. Last year, over 400 walkers and runners joined KHS volunteers and staff to raise over $19,000 in support of the animal shelter.
Registration is now open for the 2017 PetsWALK online at https://petswalk.rallybound.org/. This year, KHS hopes to raise $23,000. You can help raise funds to save animals' lives by registering your team and fundraising with your friends, family and coworkers. Prizes will be provided to any participant who raises $20 or more. New this year, the prizes are cumulative, so you keep each prize as you raise more funds! Check out our cool fundraising prizes here: https://petswalk.rallybound.org/Static/Fundraising-Incentives.
The money raised during PetsWALK helps KHS provide lifesaving aid to animals in need. Funds raised at PetsWALK go toward helping rehabilitate and rehome shelter animals throughout the year.
If you can't attend PetsWALK you can still support KHS by donating to a team. Even a $5 donation helps. You can donate to PetsWALK by visiting the event fundraising page at https://petswalk.rallybound.org/.
---
Animal Communicator Darcy Pariso's Upcoming Events
• Ananda Open House, Saturday, June 24, Ananda Community in Lynnwood, Snohomish County.
• Karmically Delicious Cruise - Booking Now! October 7 -14 - Mexican Riviera Metaphysical Cruise with 13 world-renowned speakers
---
New at Feral Cat Spay/Neuter Project
MEWS and Brews on August 6 at the Pyramid Brewery. This will be a beer tasting fundraiser where local non-profits will be paired up with local breweries. Website
Sexless Soiree at the Women's University Club of Seattle on Saturday, September 23. Website
Feral Cat Spay/Neuter Project and Pasado's Safe Haven collaborate on transportation to increase access to spay/neuter in Snohomish County. Pick-up is at Sultan Red Apple Market. For more information and make a reservation visit FCSNP's website and Facebook page
---
At Purrfect Pals:
Free cat spay and neuter clinic Fridays by appointment at The Purrfect Pals clinic in Arlington. Donations are encouraged but not required. Email cats@purrfectpals.org or call 360-652-9611 to schedule an appointment.
---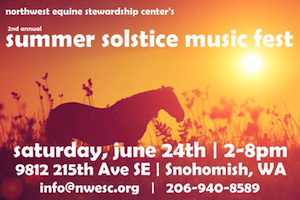 Join the fun at Northwest Equine Stewardship Center's NWESC Summer Solstice Music Fest on Saturday, June 24.
This year's event will be even bigger and better than last year. This is a family-friendly event features great activities face painting, hula hooping, hair braiding, henna art, and storytelling - for the whole family!
Visit the NWESC website for the lineup of musicians, the ticket sales link, and for updated details.
---
What's new At MEOW:
Become a MEOW Guardian Angel: A "Guardian Angel" is a person who cares deeply for an adult cat or cats, but isn't in the position to adopt them. This person pre-pays the adoption fee so that when someone is interested in adopting a cat or cats, the fee is waived. At any given time, MEOW has many adult cats who have Guardian Angels, blessed by the person who wants them to find a home, there will be no adoption fee.
---
Vouchers for Free Public Spay/Neuter Surgeries Available through MEOW
Thanks to grant funds received, MEOW continues to provide needed spay/neuter surgery support to those in our community. Since receiving their first grant mid 2010, they have funded over 2400 spay/neuter surgeries. Funds are available for dogs, feral or free-roaming cats, cats belonging to anyone needing financial assistance, and cats who qualify for their Toms & Moms program. While MEOW has often provided monetary support for community members needing financial assistance or those managing feral cat colonies, these additional grant funds help them do more. If you know someone who could use their help, please have them call the shelter (425-822-6369) or email MEOW at spayneuter@meowcatrescue.org
---
Alert: Seattle Animal Shelter warns pet owners of hot car danger. For more information visit www.seattleanimalshelter.org
---
Seattle Animal Shelter Pet Loss Support Group meets on Thursday evenings from 6 to 7:30 p.m. at the Shelter. The meetings are free. For more information call (206) 386-7387 and press #3. www.seattleanimalshelter.org.
---
Free spaying/neutering available for parent dogs and cats at Seattle Animal Shelter
As part of an ongoing program, anyone who brings a litter of puppies or kittens to the Seattle Animal Shelter is eligible to have the parent animals spayed or neutered for free. As long as donors continue to support the Pet Population Control Fund, the offer will continue indefinitely. For more information about this free spay and neuter program and other Seattle Animal Shelter services, call (206) 386-PETS (7387). 49-7560 or online at seattlehumane.org/fix
---
If you would like to foster cats and kittens for Seattle Animal Shelter plan to attend a free foster cat orientation at Seattle Animal Shelter, held on the first Saturday of each month from noon to 1 p.m. Sign up by email at sasfostercatorientation@gmail.com. Pre-registration is required. For more information call 206-386-PETS.
---
N.O.A.H. and Feral Cat Spay/Neuter Project offering low rates for cat spay/neuter surgeries!
N.O.A.H. Animal Adoption and Spay/Neutear Center is now offering feline spay/neuter surgeries for only $10 to people regardless of location. N.O.A.H. also is now altering any feral or free roaming cat free! Other needed vaccines and tests are also offered at very low rates. For more information, visit N.O.A.H.'s web page at www.thenoahcenter.org/
---
Missing Pet Partnership seeks volunteers and donations for Zeke's surgery
The Missing Pet Partnership, a non-profit organization, seeks donations and volunteers to continue their work and pay for Zeke, K9 Pet Detective's surgery. Send your donations to PO Box 3085, Federal Way, WA 98063. For more info visit www.missingpetpartnership.org
---
Pet Loss Support Group meets on Saturday mornings at 10 a.m. at the Humane Society in Bellevue. More more information visit seattlehumane.org or call 425-641-0080.
---