Listen to Martha Norwalk's Animal World every Sunday, 9 a.m. to noon
---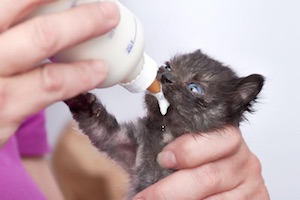 Missy's Rescue Desperately Needs Your Help!
Please help! Rent is overdue and supplies are depleted. A GoFundMe account has been set up so that you can help, or donate directly to PayPal.me/MissysRescue.
You can also bring your donations directly to Missy's at 12322 Lake City Way NE, Seattle, WA 98125, or donate on Facebook & Twitter (every little bit helps!) and/or become one a beloved volunteer or foster home! The pie rent raffle for February/March rent is happening now. Please help if you can! Paypal.me/missysrescue or call Missy at 206-526-1558.
---
Martha's Classes will help you learn to communicate with your animal friends!
Understanding Your Animal Friends, Part One: Communicating with Animals, Thursday, April 18, 6:30-9 pm; Part Two: Human to Animal Transferrence, Thursday, April 25, 6:30-9 pm, at East West Bookshop in Seattle. $26 each or special discount for both. Call East West for reservations at 206-523-3726.
---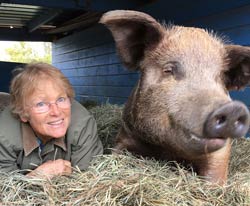 Help is Needed at
Pigs Peace Sanctuary in Stanwood
The owner, Judy Woods, has had an accident and surgery and cannot do the chores, so a lot of money is needed to cover the needs at this time.
Please volunteer or donate if you can! Pigs Peace Sanctuary, PO Box 295, Stanwood, WA 98282, www.pigspeace.org
---
Upcoming Events at the NW Stream Center in South Everett, McCollumn Park, 600 128th St SE, Everett 98208, 425-316-8592:
Volunteeer Opportunities with NW Stream Center
Sunday, March 24, 10 a.m. to 1 p.m. at Strawberry Fields Park, 6100 152nd St. NE, Marysville, WA to help restore strawberry fields, planting native trees and shrubs. RSVP to 425-316-8592.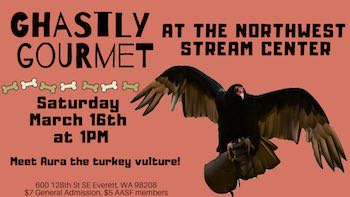 The Ghastly Gourmet: On Saturday, March 16 at 1 pm, the Adopt A Stream Foundation (AASF) presents the Ghastly Gourmet – a lively show about Turkey Vultures. The star of the show is Aura, who will be on the arm of the Vulture Lady, Barbara Ogaard, from the Sarvey Wildlife Care Center. Ogaard, the Vulture Lady (whose other pseudonym is the Bat Lady) will entertain and, just maybe, gross you out with all kinds of "must know vulture facts." Not just their choice of foods, how their digestive system works, and other ghastly tidbits, but turkey vulture family life as well. The Vulture Lady and Aura will reveal the life history of turkey vultures who can live to be 24 years old, and a lot of cool science about these high flyers that have been observed by airline pilots cruising above 20,000 feet! Attend this event, and you will gain a great appreciation for this bird whose scientific name is Cathartes aura: Latin for "cleansing breeze."Advance reservations are required by calling 425-315-8592; $5 AASF members; $7 non-members.
---
Upcoming Events at Homeward Pet Adoption Center: www.homewardpet.org
Easter B'Egg Hunt April 20.
2019 Fur Ball and Auction on May 18! Tickets available now.
---
Hear Darcy Pariso on Animal Soul Wisdom Radio, 2nd and 4th Thursdays
• April 11 and every second Thursday 11 am Pacific, on KKNW 1150 AM in Seattle https://1150kknw.com/listen/ and Transformation Talk Radio. Call in 1-800-930-2819.
• March 28 and every fourth Thursday, 2 pm Pacific, on Transformation Talk Radio. Call in 1-800-930-2819.
Learn to Communicate with Animals, Sunday, March 31, 10 a.m. to 5 p.m. at Dayaalu Center, Bainbridge Island. $150 includes lunch snacks, and course materials. Register at www.dayaalucenter.com
Heart to Heart Animal Communication with Darcy Pariso and Stacy Lewis, Saturday, April 6, 10 a.m. to 5 p.m., at Centaur Development Wellness Ranch in Snohomish. $140 includes materials and snacks, BYO lunch. www.darcypariso.com.
---
Events at Seattle Humane: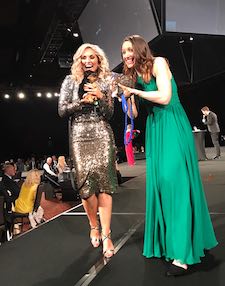 Tickets on sale now for Tuxes & Tails 2019, Saturday, May 11 at the Meydenbauer Center in Bellevue. A thousand animal lovers will gather for an evening of fabulous food and wine, and bid on exclusive live and silent auction items to benefit homeless pets in need. The highlight of the evening is the Pet Runway show starring local celebrities and our adoptable dogs and cats. General event tickets start at $250 and include silent auction and pre-event cocktail festivities, gourmet four-course meal, live auction, and pet runway show. Once again, guests have the option of purchasing a cocktails-only 'Tinis & Tails ticket for $125. 'Tinis & Tails guests will be able to bid on silent auction items, enjoy all of the pre-dinner festivities, including the Hidden Wine Pull and a Kitten Cuddle Booth! Can't attend this year? Make a donation to the animals or donate an item to the auction at Tuxes & Tails. Questions? Send an email to tuxes@seattlehumane.org or call (425) 649-7551.
2019 Calendar on sale now at Seattle Humane or any Eastside Mud Bay store.
Kitty Literature offers the opportunity for 5-10 year olds to help socialize Seattle Humane's cats by reading to them. Participants can read to cats in the community adoption rooms for 20 minute sessions. What better way for your child to help animals and improve upon their own skill set!, More info and register at seattlehumane.org
---
What's New at Feral Cat Spay/Neuter Project:
Tickets on sale now for Spayghetti 2019, April 28. $25 or $35 with drink ticket. Prices go up in one month! www.feralcatproject.org
FCSNP and Pasado's Safe Haven collaborate on transportation to increase access to spay/neuter in Snohomish County. Pickup wull be at Sultan Red Apple Market. For an appointment call 425-673-2287. More info on FCSNP's website www.feralcatproject.org.
---
Events and Services at Purrfect Pals
Free cat spay and neuter clinic Fridays by appointment at The Purrfect Pals clinic in Arlington. Donations are encouraged but not required. Email cats@purrfectpals.org or call 360-652-9611 to schedule an appointment.
---
Upcoming Events at MEOW
2019 calendars on sale now. Order online at www.meowcatrescue.org or call 425-822-6369.
Mark your calendar for the annual 2019 Fine Wines & Felines Fundraiser to benefit MEOW! Discount tickets will go on sale beginning mid-June.
Become a MEOW Guardian Angel: A "Guardian Angel" is a person who cares deeply for an adult cat or cats, but isn't in the position to adopt them. This person pre-pays the adoption fee so that when someone is interested in adopting a cat or cats, the fee is waived. At any given time, MEOW has many adult cats who have Guardian Angels, blessed by the person who wants them to find a home, there will be no adoption fee.
Vouchers for Free Public Spay/Neuter Surgeries Available through MEOW: Thanks to grant funds received, MEOW continues to provide needed spay/neuter surgery support to those in our community. Since receiving their first grant mid 2010, they have funded over 2400 spay/neuter surgeries. Funds are available for dogs, feral or free-roaming cats, cats belonging to anyone needing financial assistance, and cats who qualify for their Toms & Moms program. While MEOW has often provided monetary support for community members needing financial assistance or those managing feral cat colonies, these additional grant funds help them do more. If you know someone who could use their help, please have them call the shelter (425-822-6369) or email MEOW at spayneuter@meowcatrescue.org
---
Seattle Animal Shelter Pet Loss Support Group meets on Thursday evenings from 6 to 7:30 p.m. at the Shelter. The meetings are free. For more information call (206) 386-7387 and press #3. www.seattleanimalshelter.org.
---
Free spaying/neutering available for parent dogs and cats at Seattle Animal Shelter
As part of an ongoing program, anyone who brings a litter of puppies or kittens to the Seattle Animal Shelter is eligible to have the parent animals spayed or neutered for free. As long as donors continue to support the Pet Population Control Fund, the offer will continue indefinitely. For more information about this free spay and neuter program and other Seattle Animal Shelter services, call (206) 386-PETS (7387). 49-7560 or online at seattlehumane.org/fix
---
If you would like to foster cats and kittens for Seattle Animal Shelter plan to attend a free foster cat orientation at Seattle Animal Shelter, held on the first Saturday of each month from noon to 1 p.m. Sign up by email at sasfostercatorientation@gmail.com. Pre-registration is required. For more information call 206-386-PETS.
---
N.O.A.H. and Feral Cat Spay/Neuter Project offering low rates for cat spay/neuter surgeries!
N.O.A.H. Animal Adoption and Spay/Neutear Center is now offering feline spay/neuter surgeries for only $10 to people regardless of location. N.O.A.H. also is now altering any feral or free roaming cat free! Other needed vaccines and tests are also offered at very low rates. For more information, visit N.O.A.H.'s web page at www.thenoahcenter.org/
---
Pet Loss Support Group meets on Saturday mornings at 10 a.m. at the Humane Society in Bellevue. More more information visit seattlehumane.org or call 425-641-0080.
---