Listen to Martha Norwalk's Animal World every Sunday, 9 a.m. to noon
---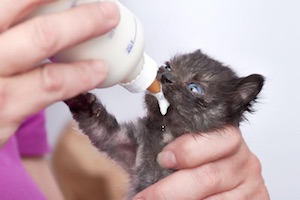 Missy's Rescue Desperately Needs Your Help!
Please help! Rent is overdue and supplies are depleted. A GoFundMe account has been set up so that you can help, or donate directly to PayPal.me/MissysRescue.
You can also bring your donations directly to Missy's at 12322 Lake City Way NE, Seattle, WA 98125, or donate on Facebook & Twitter (every little bit helps!) and/or become one a beloved volunteer or foster home!
Mark your calendars for Sticky Whiskers, December 15 at Elliot Bay Brewery in Lake City. This is a huge fundraiser for Missy's Rescue with a great dinner, silent and live auction, and those incredible pies! If you would like to donate to the auctions call Missy at 206-356-8245. Get your tickets at Facebook.com/whiskersgonewild or call Missy.
---
12 Dogs of Christmas Giveaway at The Soapy Paw in Snohomish
The Soapy Paw will give away 12 free baths and grooming to those on hard times or in need of help with their dogs. Please write to nominate anyone you know who deserves this gift for the holidays. Letters must be received by December 12. You can mail them to fourpawsllc@gmail.com. Soapy Paws is located at 723 Avenue D, Suite G, Snohomish, WA 98290. 360-863-2951.
---
Thanksgiving Tips for Keeping Our Animal Friends Safe
The bounty of rich, tempting foods at Thanksgiving can pose health hazards to our four-legged friends, making Thanksgiving a busy time for emergency veterinary clinics. Seattle Humane urges pet guardians to follow five common sense tips to keep pets healthy and happy during the holiday fun and festivities:
1. Keep the feast out of reach! Agile and creative dogs or cats can capture a special treat from the kitchen counter, trash or even the dining room table.
2. Resist offering your leftovers. Rich and fatty foods like dressing, pie, and gravy can lead to serious and painful pancreatitis.
3. No turkey bones! Turkey bones can cause very serious and sometimes fatal consequences for your pet.
4. Plan ahead for pets. Stop by a pet food store and purchase some new dog biscuits or cat treats and then reduce the amount of his regular meal to accommodate the treats he will be getting throughout the day. Remember, biscuits and treats are usually much higher in calories than regular pet food, so having him skip dinner may be a prudent choice if he has been snacking all day.
5. Make a special treat. Some people enjoy cooking for their dog and cat while they are cooking for the rest of the family. Pick up a recipe book just for companion animals at the book store, or just type "homemade pet treat recipes" into your favorite web search engine for lots of interesting choices.
Celebrate the homey spirit of Thanksgiving by adopting a new pet from Seattle Humane in Bellevue. These animals will be eternally thankful for a warm and loving home. November 23-25 visit the shelter and write a note about why you are thankful this year and Seattle Humane will take $25 off your adoption fees! Find adoptable pets at seattlehumane.org.
---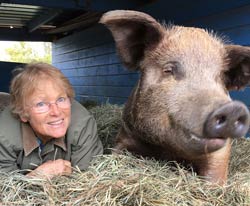 Help is needed at
Pigs Peace Sanctuary in Stanwood
The owner, Judy Woods, has had an accident and surgery and cannot do the chores this fall, so a lot of money is needed to cover the needs at this time.
Please volunteer or donate if you can! Pigs Peace Sanctuary, PO Box 295, Stanwood, WA 98282, www.pigspeace.org
---
Upcoming Events at the NW Stream Center in South Everett, McCollum Park, 600 128th St. SE, Everett, WA 98208, 425-316-8592, www.streamkeeper.org
Enjoy free admission during the month of December to the 20-acre forest and wetland preserve at the NW Stream Center.
Live and Wild Holiday Trees for Salmon can be purchased Thursdays through Sundays, 10 am to 4 pm, Saturday, Dec. 8 through Dec 23. A great selection of sitka spruce, western red cedar, grand fir, and douglas fir in pots, 3-5 feet, $40, $60, $100. If you can return them after the holidays, they will be planted alongside salmon streams in the area. For more information call 425-316-8592.
---
Darcy Pariso on the Radio Thursday, December 13, 11 a.m.
Darcy Pariso on Animal Soul Wisdom Radio, every second Thursday 11 am Pacific, 2 pm Eastern, on KKNW 1150 AM in Seattle or listen live at https://1150kknw.com/listen/. "Tapping into the wisdom of our animals, angels and masters." Call in with your questions.
Join Darcy at Intraspace's Holiday Arts and Crafts / Intuitive Fair, Saturday, Dec. 1, 10 am - 6 pm, 3100 Airport Way S., Seattle. Lots of free parking.
Special holiday gift pricing on Darcy's Readings: www.darcypariso.com
---
Events at Seattle Humane:
Santa Paws Pics, Saturday, Dec. 8. 10-4, at Seattle Humane, 3rd floor. $25 for a digital image, Proceeds benefit Seattle Humane.
2019 Calendars on sale now at Seattle Humane or any Eastside Mudbay store.
Giving Tuesday will be November 27 this year.
Puppies in Probate Class: Caring for Your Pets in Your Estate Plans, Dec. 11 at Seattle Humane. Two sessions offers from 2-3:30 p.m. or 4:30-6 p.m.
Movie Night at Seattle Humane, Friday, Dec. 14. Children ages 6 and older are invited for a fun night of gtames, pizza, animals, and a movie. $30 per child, sibs $20. Email educationservices@seattlehumane.org or call 425-373-5385.
All November: Adopt A Senior Pet, 8 years and up, fees waived.
Kitty Literature offers the opportunity for 5-10 year olds to help socialize Seattle Humane's cats by reading to them. Participants can read to cats in the community adoption rooms for 20 minute sessions. What better way for your child to help animals and improve upon their own skill set!, More info and register at seattlehumane.org
---
What's New at Feral Cat Spay/Neuter Project:
Feral Cat Spay/Neuter Project and Pasado's Safe Haven collaborate on transportation to increase access to spay/neuter in Snohomish County. Pick-up is at Sultan Red Apple Market. For more information and make a reservation visit FCSNP's website and Facebook page
---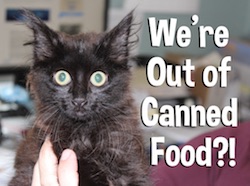 Events and Services at Purrfect Pals
Purrfect Pals Needs Your Help to Feed Lots of Hungry Foster Kittens!
HISS! Purrfect Pals is are completely out of canned kitten food and still have dozens and dozens of hungry litters in foster care (with more arriving regularly!). Will you please help feed them by ordering a case or sharing this link to their Amazon Wish List today?
Free cat spay and neuter clinic Fridays by appointment at The Purrfect Pals clinic in Arlington. Donations are encouraged but not required. Email cats@purrfectpals.org or call 360-652-9611 to schedule an appointment.
---
Upcoming Events at MEOW
2019 calendars on sale now. Order online at www.meowcatrescue.org or call 425-822-6369.
MEOW's Holiday Bazaar, Bake Sale and Open House, Saturday, December 1, 10-4, at Northlake Unitarian Universalist Church, near the shelter, 308 4th Ave. S, Kirkland. www.meowcatrescue.org
Become a MEOW Guardian Angel: A "Guardian Angel" is a person who cares deeply for an adult cat or cats, but isn't in the position to adopt them. This person pre-pays the adoption fee so that when someone is interested in adopting a cat or cats, the fee is waived. At any given time, MEOW has many adult cats who have Guardian Angels, blessed by the person who wants them to find a home, there will be no adoption fee.
Vouchers for Free Public Spay/Neuter Surgeries Available through MEOW: Thanks to grant funds received, MEOW continues to provide needed spay/neuter surgery support to those in our community. Since receiving their first grant mid 2010, they have funded over 2400 spay/neuter surgeries. Funds are available for dogs, feral or free-roaming cats, cats belonging to anyone needing financial assistance, and cats who qualify for their Toms & Moms program. While MEOW has often provided monetary support for community members needing financial assistance or those managing feral cat colonies, these additional grant funds help them do more. If you know someone who could use their help, please have them call the shelter (425-822-6369) or email MEOW at spayneuter@meowcatrescue.org
---
Seattle Animal Shelter Pet Loss Support Group meets on Thursday evenings from 6 to 7:30 p.m. at the Shelter. The meetings are free. For more information call (206) 386-7387 and press #3. www.seattleanimalshelter.org.
---
Free spaying/neutering available for parent dogs and cats at Seattle Animal Shelter
As part of an ongoing program, anyone who brings a litter of puppies or kittens to the Seattle Animal Shelter is eligible to have the parent animals spayed or neutered for free. As long as donors continue to support the Pet Population Control Fund, the offer will continue indefinitely. For more information about this free spay and neuter program and other Seattle Animal Shelter services, call (206) 386-PETS (7387). 49-7560 or online at seattlehumane.org/fix
---
If you would like to foster cats and kittens for Seattle Animal Shelter plan to attend a free foster cat orientation at Seattle Animal Shelter, held on the first Saturday of each month from noon to 1 p.m. Sign up by email at sasfostercatorientation@gmail.com. Pre-registration is required. For more information call 206-386-PETS.
---
N.O.A.H. and Feral Cat Spay/Neuter Project offering low rates for cat spay/neuter surgeries!
N.O.A.H. Animal Adoption and Spay/Neutear Center is now offering feline spay/neuter surgeries for only $10 to people regardless of location. N.O.A.H. also is now altering any feral or free roaming cat free! Other needed vaccines and tests are also offered at very low rates. For more information, visit N.O.A.H.'s web page at www.thenoahcenter.org/
---
Pet Loss Support Group meets on Saturday mornings at 10 a.m. at the Humane Society in Bellevue. More more information visit seattlehumane.org or call 425-641-0080.
---