Listen to Martha Norwalk's Animal World every Sunday, 9 a.m. to noon
---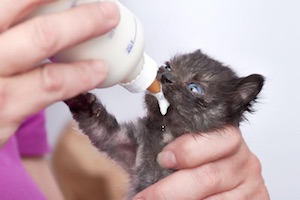 Missy's Rescue Desperately Needs Your Help!
Please help! Rent od overdue and supplies are depleted. A GoFundMe account has been set up so that you can help, or donate directly to PayPal.me/MissysRescue.
You can also bring your donations directly to Missy's at 12322 Lake City Way NE, Seattle, WA 98125.
Please on Facebook & Twitter (every little bit helps!) and/or become one a beloved volunteer or foster home!
---
Martha's Popular Classes are Happening Again in April!
Join Martha for Part 1, Communicating with Animals, on Thursday, April 19, 6:30-9 p.m., and learn to talk with your animal friends on four levels, both sending and receiving. In Part 2, The Human to Animal Transference, Thursday, April 26, 6:30-9 pm, learn about how your stuff has an impact on your animal friends and what to do about it. Classse are $26 each or $44 for both, at East West Bookshop in Seattle. Call East West at 206-523-3726 to reserve your place.
---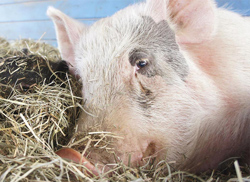 Cold Winter is Here and the Pigs Need Your Help!
The Pigs Peace Sanctuary barn is depleted of hay due to the cold nights. In one week 120 bales of hay were distributed to all pig sleeping barns to ensure adequate bedding of deep hay to stay warm. The pigs do not hesitate to eat their hay beds ( truly breakfast is bed! ) and hay must be added all winter long. Pigs Peace Sanctuary is asking for your help to keep the hay stocked and the pigs happy! Donate here.
---
Join Purrfect Pals for the Second Chances Luncheon, with special guest Jackson Galaxy!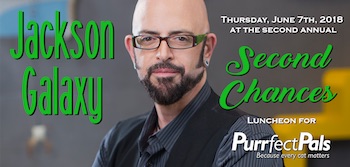 Join Purrfect Pals for their Second Chances Luncheon on June 7! Guests will enjoy a delicious gourmet vegetarian lunch while learning about the work Purrfect Pals is doing to provide much-needed second chances for homeless cats and kittens in the Puget Sound Region.
Inspirational speakers will include cat behavior expert and television star Jackson Galaxy as well as members of our community whose lives have been dramatically changed by Purrfect Pals and the cats brought into their lives.
There is no charge to attend the luncheon, but guests will be asked to make a donation during the event. A minimum donation of $150 is suggested. The program will begin promptly at 12 pm and end at 1:15pm. If you have time to stay longer, Jackson Galaxy will be sticking around for an hour after the official program and will be available to answer guest questions!
To learn more about the Second Chances Luncheon, please visit purrfectpals.org/luncheon or contact them at 360-926-8447 or luncheon@purrfectpals.org.
---
Homeward Pet's 11th Annual Easter B'egg Hunt - Hop on over to the most exciting event of the year!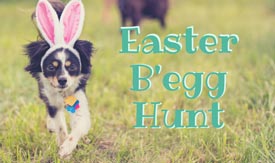 Join Homeward Pet for our Annual Easter B'egg Hunt at Camp Charlie's Private Off-Leash Dog Park on March 31 for a day of frolic and fun! Dogs of all shapes and sizes will romp and roam the fields for dog-treat-stuffed eggs.
The Easter Be'gg Hunt is broken up in two different groups, large dogs from 11am - 12:30pm and small dogs from 12:30pm - 2pm. Please use your best judgement when selecting your session. You know your dog and his/her comfort level and play style best.
Camp Charlie can be muddy so please come prepared. We encourage you to leave the toys, frisbees and balls at home to reduce the risk of conflict.
This fun event is free to attend, but monetary donations are encouraged to benefit homeless cats and dogs in Homeward's care.
For more information, directions, and registration visit Homeward Pet.
---
Mark your calendar for Homeward Pet Adoption Center's Fur Ball and Auction, May 19, 2018 at the Meydenbauer Center in Bellevue. More information here and tickets coming soon!
---
Coming up at Seattle Humane:
Annual Tulip Ride for motorcycle enthusiasts to raise funds for animals will be Saturday, April 21, 8:30 a.m. Meet at Blazing Bagels in Redmond and ride to a tulip farm in Mt. Vernon. Cost includes ride, admission to tulip farm, a BBQ lunch, and gift bag. For more information visit www.tulipride.org
Get Ready for Seattle Humane's Tuxes and Tails: Mark your calendars for this year's Tuxes and Tails on Saturday, May 12 at the Meydenbauer Center in downtown Bellevue. Seattle Humane is located at 13212 SE Eastgate Way, Bellevue, WA 98005, www.seattlehumane.org
Kitty Literature offers the opportunity for 5-10 year olds to help socialize Seattle Humane's cats by reading to them. Participants can read to cats in the community adoption rooms for 20 minute sessions. What better way for your child to help animals and improve upon their own skill set!, More info and register at seattlehumane.org
Benefits for Seattle Humane:
Elysian Capitol Hill Brewery Release Party Friday, March 23. Beer proceeds will benefit Seattle Humane
Scotch and Beerfest, March 30-31, at Fremont Studios. A portion of ticket sales will benefit Seattle Humane.
Adoption Events at Seattle Humane:
March Meowness, March 9-11, all cats one year and up are free!
St. Pittie's Day: March 16-18, adoption fees are 50% off for all pit bulls one year and older.
Hire a Professional March 23-25, all adoption fees are 50% on all pets one year and older.
---
Upcoming Events with Anne Gordon de Barrigon
Gifts from the Gray Whales Retreat, Baja. Mexico. The Gray whales will teach us through their forgiveness of humans for hunting them in the very same bays where they now trust and honor you by coming close to the boat to touch and even kiss them! March 16-22, 2018
Living the Dolphin Way Swim with Wild Dolphins Retreat in Bimini June 3-9, 2018
Learn how to live like the dolphins as you swim as part of the pod in true unity/community in the crystal clear waters of the Caribbean. You will learn how to have more joy and bring more play into your life. How to go with the flow and easily surf through challenges as the dolphins do.

Ancient Wisdom Retreat in the Pearl Islands and Rainforest of Panama, August 5-10, 2018
Dive deep into the Ancient Wisdom that the Whales, the Wisdom Keepers of the Earth, and the Dolphins, the Masters of Joy and Play, have to share with us on this powerful retreat. You will spend time with the indigenous tribe of the Emberá people who still live in traditional villages in the jungle. The Emberá are the embodiment of what it is to live on land as a Human Dolphin Pod!
---
What's New at Feral Cat Spay/Neuter Project:
Spayghetti and No Balls dinner is open and selling quickly! Join FCSNP in celebrating over 113,000 spay/neuter surgeries done since 1997 through your support -- register soon! Registration is only $25 for an all-you-can eat spaghetti, salad, and bread sticks buffet. Vegetarian, vegan and gluten-ree options will be available. Wine and beer will be $10 per glass. There will also be a Dessert Dash and the fan-favorite Beverage Bling Fling. Invite your friends, family and neighbors to join you! Sunday, April 29, 5 to 8pm at Factory Luxe in the Old Rainier Factory, 3100 Airport Way S., Seattle, WA 98134. Would you like to put a special dessert in the dash, donate an alcoholic beverage for the Beverage Bling Fling or volunteer at the event? Please let us know! For information call 425-673-2287.
Feral Cat Spay/Neuter Project and Pasado's Safe Haven collaborate on transportation to increase access to spay/neuter in Snohomish County. Pick-up is at Sultan Red Apple Market. For more information and make a reservation visit FCSNP's website and Facebook page
---
Free cat spay and neuter clinic Fridays by appointment at The Purrfect Pals clinic in Arlington. Donations are encouraged but not required. Email cats@purrfectpals.org or call 360-652-9611 to schedule an appointment.
---
Upcoming Events at MEOW
Mark your calendars for MEOW's Annual Fine Wines & Felines Benefit Dinner and Auction, Saturday, June 23 in the Hub Ballroom on the UW Campus, starting at 5:30 p.m. For more information visit www.meowcatrescue.org
Become a MEOW Guardian Angel: A "Guardian Angel" is a person who cares deeply for an adult cat or cats, but isn't in the position to adopt them. This person pre-pays the adoption fee so that when someone is interested in adopting a cat or cats, the fee is waived. At any given time, MEOW has many adult cats who have Guardian Angels, blessed by the person who wants them to find a home, there will be no adoption fee.
Vouchers for Free Public Spay/Neuter Surgeries Available through MEOW
Thanks to grant funds received, MEOW continues to provide needed spay/neuter surgery support to those in our community. Since receiving their first grant mid 2010, they have funded over 2400 spay/neuter surgeries. Funds are available for dogs, feral or free-roaming cats, cats belonging to anyone needing financial assistance, and cats who qualify for their Toms & Moms program. While MEOW has often provided monetary support for community members needing financial assistance or those managing feral cat colonies, these additional grant funds help them do more. If you know someone who could use their help, please have them call the shelter (425-822-6369) or email MEOW at spayneuter@meowcatrescue.org
---
Seattle Animal Shelter Pet Loss Support Group meets on Thursday evenings from 6 to 7:30 p.m. at the Shelter. The meetings are free. For more information call (206) 386-7387 and press #3. www.seattleanimalshelter.org.
---
Upcoming Events for Pawsitive Alliance.
June 23, Bow Wow Meow Luau, Marymoor Park, 6046 W Lake Sammamish Pkwy NE, Redmond. Looking to add a pet to the family? Join us and our many partner shelters and rescues at the 2018 Bow Wow Meow Luau to find your new furry family member.
---
Free spaying/neutering available for parent dogs and cats at Seattle Animal Shelter
As part of an ongoing program, anyone who brings a litter of puppies or kittens to the Seattle Animal Shelter is eligible to have the parent animals spayed or neutered for free. As long as donors continue to support the Pet Population Control Fund, the offer will continue indefinitely. For more information about this free spay and neuter program and other Seattle Animal Shelter services, call (206) 386-PETS (7387). 49-7560 or online at seattlehumane.org/fix
---
If you would like to foster cats and kittens for Seattle Animal Shelter plan to attend a free foster cat orientation at Seattle Animal Shelter, held on the first Saturday of each month from noon to 1 p.m. Sign up by email at sasfostercatorientation@gmail.com. Pre-registration is required. For more information call 206-386-PETS.
---
N.O.A.H. and Feral Cat Spay/Neuter Project offering low rates for cat spay/neuter surgeries!
N.O.A.H. Animal Adoption and Spay/Neutear Center is now offering feline spay/neuter surgeries for only $10 to people regardless of location. N.O.A.H. also is now altering any feral or free roaming cat free! Other needed vaccines and tests are also offered at very low rates. For more information, visit N.O.A.H.'s web page at www.thenoahcenter.org/
---
Missing Pet Partnership seeks volunteers and donations for Zeke's surgery
The Missing Pet Partnership, a non-profit organization, seeks donations and volunteers to continue their work and pay for Zeke, K9 Pet Detective's surgery. Send your donations to PO Box 3085, Federal Way, WA 98063. For more info visit www.missingpetpartnership.org
---
Pet Loss Support Group meets on Saturday mornings at 10 a.m. at the Humane Society in Bellevue. More more information visit seattlehumane.org or call 425-641-0080.
---