Listen to Martha Norwalk's Animal World every Sunday, 9 a.m. to noon
---
Want to help the animals affected by Hurricane Harvey?
Seattle Humane is part of a network of shelters working with national animal welfare groups on a large-scale natural disaster response for Hurricane Harvey. They are prepared to take up to 100 dogs and 200 cats from Texas shelters to relieve overcrowding and open up space, resources and temporary housing for pets displaced by the storm to stay until they can be reunited with their families. Transfers will be ongoing and the first pets arrived on Aug. 30.
Ways to help:
To donate locally: Donate to Seattle Humane's Disaster Fund to help transfer, care for, treat and place animals who come to the shelter due to natural disasters like Hurricane Harvey. DONATE HERE. Or purchase items off Seattle Humane's Amazon Wish List to help us care for new arrivals (Due to limited space and an overwhelming response, we would like to encourage only items from the Wish List at this time.)
To volunteer: We'd love to collect your information so we can be in touch about future volunteer opportunities. Complete this form to indicate your interest
To help the people working on the ground in Texas, consider supporting:
• Houston SPCA
• Wings of Rescue
• Austin Pets Alive
Thank you again for reaching out! It is heartwarming to see our community come together to help the animals of Texas.
---
Last Chance to Take Martha's Classes This Year!
"The Keys to Understanding Your Animal Friends" Part One and Two at East West Bookshop in Seattle.
In Part One, "Communicating with Animals," Martha teaches four levels of communication, with the emphasis on interspecies telepathic and empathetic communication including how to send and receive. Wednesday, Oct. 1, 6:30-9 p.m.
In part two, "The Huma to Aninal Tranference," learn how your "stuff" affects your amimals and what to do abouit. This part includes more tools to assist you with communication. Wednesday, October 18, 6:30-9 p.m.
$26 per class, or $44 for both. Register at EastWestBookshop.com
---
Join ARF for The Rockin' Paw
Come run, come walk the Rockin Paw Walk N Run 1K/5K October 7 at Langus Park across from the Everett Animal Shelter. The fun begins at 9 a.m. and includes a costume contest, food, games, entertainment, and vendors. All proceeds benefit the care of the animals at the Everett Animal Shelter. Bring your family and friends. Active duty naval community gets 100 free registrations with current idea. All furry ones welcome! Visit the website for additional info.
---
Seattle Animal Shelter conducting emphasis patrols on saltwater beaches
Dogs are not allowed on beaches to ensure protection of wildlife
Spring is blossoming and hatching in Seattle, and now is a particularly important time to ensure that immature wildlife have their best opportunity to flourish in the Northwest. Because of this, the Seattle Animal Shelter will be conducting emphasis patrols on all saltwater beaches in the city.
Dogs are not allowed on any of Seattle's public saltwater beaches, whether leashed or unleashed. This law helps to protect the fragile ecosystem along our shorelines. Marine mammals, such as seal pups who are typically born in April, use the city's beaches to rest and warm themselves. Shore birds also frequent our beaches. Wildlife that interact with dogs are less likely to reach adulthood.
Uniformed animal services officers will be patrolling city parks with a focus on saltwater beaches and may issue citations to violators. If you would like to report Seattle beaches where dogs are frequently seen, please submit a service request at http://bit.ly/sas-service-request. You can also contact the shelter directly by calling 206-386-PETS (7387) or by visiting www.seattleanimalshelter.org
---
Join Pigs Peace Sanctuary and No Bones Beach Club for a BBQ with the Pigs
You are invited to celebrate fall and enjoy a fun day with all of the pigs! The pigs are hosting a joy filled celebration BBQ fundraiser and want you to come! This will be the first party at the sanctuary in years! Enjoy some amazing food thanks to No Bones Beach Club, and meet the wonderful pigs who call Pigs Peace Sanctuary home!! Honey will show off the new roof to her barn!
Saturday October 21, 1-4pm, Pigs Peace Sanctuary in Stanwood, WA, $75 prepaid per person. There is a limited amount of tickets, so get yours now!
---
Upcoming Events with Anne Gordon de Barrigon
Join Anne when she is in Seattle for a Meetup Group Event in October at 7 pm. She will talk about entering the spirit world of dophins and whales. (Date and location TBA.)
Spirit of the Orca Retreat in Perfect Balance on San Juan Island Sept 29-Oct 3, with Anne Gordon de Barrigon and Jillian Rutledge. Does the Spirit of the Orca call to the depths of your soul?
Open a deep spiritual connection with the Puget Sound Orca whales. Orcas are the Apex Predators of the Seas. Open your heart, mind and soul to receive messages directly from the orcas. Spend time each day on the water in the presence of orcas, as well as dolphins, seals, sea lions and eagles. Learn orca wisdom that you can apply to your life to live more in harmony and perfect balance. Receive Orca healing energy. Two options to choose from: Orca Perfect Balance Sept 29-Oct 1, or Deep Dive Orca Experience Sept. 29-Oct. 3. For more information visit www.orcaspiritretreat.com
Gifts from the Gray Whales Retreat, Baja. Mexico. The Gray whales will teach us through their forgiveness of humans for hunting them in the very same bays where they now trust and honor you by coming close to the boat to touch and even kiss them! March 16-22, 2018 http://www.whaleanddolphinwisdomretreats.com/gray-whales.html
---
Glow in the Park - Shine Bright for Seattle Humane
Seattle Humane's Walk for the Animals takes on a thrilling new identity: "Glow in the Park." Join them for an evening dog walk of glow-in-the-dark fun to light the way towards a brighter future for thousands of animals in our community. This dog- and family-friendly walk supports pets in need at Seatlte Humane. Saturday, October 7, 5-8 pm, Green Lake Park. Click here to register.
---
Seattle Parrot Expo — the largest, FREE parrot-centered event of the Northwest
Seattle Parrot Expo returns for its fourth year, October 7 and 8, in a new location: the Auburn Community and Event Center, 910 9th St. SE Auburn, WA 98001. The expo is the annual fundraiser for Seattle Fight Club Foundation.
Seattle Parrot Expo will feature myriads of educational, interactive exhibitions, including speakers, an exhibitors hall, lots of fun activities… even rollerskating parrots. Seattle Parrot Expo offers expert educational entertainment FREE to all generations to inspire new explorations and connections we all have to parrots.
Sponsor, volunteer, booth, program advertising opportunities are available until September 15.
For more information visit https://www.seattle-parrot-expo.com
---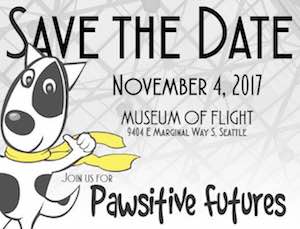 Join Pawsitive Alliance for Their Annual Gala Dinner and Auction at the Museum of Flight
Attendees will enjoy dinner and beverages, activities, live and silent auction items, and more! Everyone can participate in the rush and excitement of the Dessert Dash, the hysterical Heads or Tails, and the opportunity to "Raise Your Paw" to support the animals.
Pawsitive Futures Gala Dinner and Auction, November 4, 6-9 pm, at the Museum of Flight.
---
New at Feral Cat Spay/Neuter Project
Feral Cat Spay/Neuter Project and Pasado's Safe Haven collaborate on transportation to increase access to spay/neuter in Snohomish County. Pick-up is at Sultan Red Apple Market. For more information and make a reservation visit FCSNP's website and Facebook page
---
At Purrfect Pals:
Get Your Tickets now for the 20th Annual Black Cat Ball on October 29 at the Meydenbauer Center in downtown Bellevue. For more info click here.
Free cat spay and neuter clinic Fridays by appointment at The Purrfect Pals clinic in Arlington. Donations are encouraged but not required. Email cats@purrfectpals.org or call 360-652-9611 to schedule an appointment.
---
Killer Whale Tales at the Northwest Stream Center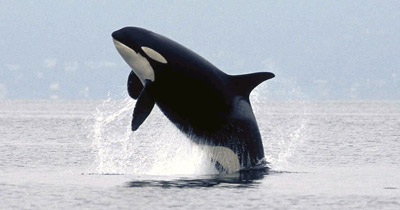 On Saturday October 7, at 1 pm, the Adopt A Stream Foundation and Snohomish County Parks are presenting Killer Whale Tales at the Northwest Stream Center in Mc Collum Park, 600-128th Street SE, Everett WA 98208. Reservations are required by calling 425-316-8592 ($5 Adopt A Stream Foundation Members, $7 non-members). In addition to seeing a fabulous killer whale event, reservation holders will be able to enjoy seeing a Trout Stream Exhibit and fall foliage next to a 1/2 mile long Elevated Nature Trail. The Gate House will open one hour in advance for early arrivals.
Killer Whale Tales was created by Jeff Hogan who has been conducting research on the San Juan Killer Whales over the last 18 years. In addition to being a biologist, Jeff is a professional photographer and a trained actor. He puts on a "whale of a show" that has been enjoyed by more than 65,000 folks along the west coast!
Jeff is bringing the San Juan Killer Whale population to the Northwest Stream Center via amazing photographs and underwater video. After attending this show, when you see a Killer Whale in the wild, you will be able to recognize if that whale is swimming to get to another location, hunting for salmon, or just playing.
To learn about upcoming Streamkeeper Academy events go to www.streamkeeper.org.
---
The Bat Lady Wings to the Northwest Stream Center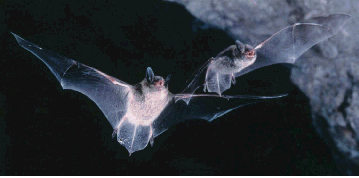 Attention all ghosts and goblins!!! The Bat Lady will be at the Adopt A Stream Foundation's Northwest Stream Center on Friday, October 13, 7 pm, in Snohomish County's McCollum Park (600 128th Street SE, Everett WA 98208). The Bat Lady also goes by the name of Barbara Ogaard. She rehabilitates injured bats for the Sarvey Wildlife Center and is a researcher for Bat's Northwest. Pre-register for the Bat Show by calling 425-316-8592; $5 for Adopt A Stream Foundation members, $7 non-members.
"The Bat Lady puts on quite a show," says Adopt A Stream Foundation Director Tom Murdoch. "She has this unique ability to engage little kids and old gray beards at the same time." Live bats will be part of the presentation along with incredible photo images of bats from around the world and some very cool bat puppets. Murdoch advises that the Bat Lady has a unique ability to engage little kids and old gray beards at the same time – this is a very entertaining event
Registration proceeds benefit Sarvey Wildlife Center and the NW Stream Center. To learn about other great upcoming Streamkeeper Academy events , go to www.streamkeeper.org.
Attention: All ghosts and goblins who wear a costume will receive a free salmon poster from The Adopt A Stream Foundation!
---
Thornton Creek Needs Your Help - Become a Streamkeeper
Thornton Creek is the most polluted stream in Seattle – it needs a lot of Streamkeepers! On Tuesday, October 17, 7-9pm the Adopt A Stream Foundation will be hosting the first of a two-part Streamkeeper training event for anyone who lives, works, or recreates in the Thornton Creek watershed (see attached map). That event will be at North Seattle College Room CC1161 (9600 College Way N Seattle WA 98103) located near the headwaters of Thornton Creek's South Branch. There is free parking for those who attend!
The first part of the training, includes great underwater video of salmon spawning and a fast paced introduction to Five Steps of how to "adopt" a stream.
The second part is a Field Training with two date options: Thursday October 19 or Saturday October 21. These al-day stream monitoring experiences begin 8:30am a couple miles upstream of the mouth of Thornton Creek at the Meadowbrook Community Center and, later in the morning, shift to two Thornton Creek streamside locations for the rest of the day.
The Streamkeeper Field Training is free, however, registration is required by calling 425-316- 8592 or emailing aasf@streamkeeper.org.
---
What's new At MEOW:
Cat Runnings 4th Annual MEOW 5K Run/Walk, Saturday, Oct. 14 at Marymoor Park in Redmond. Proceeds benefit MEOW. For more information visit www.meowcatrescue.org
Become a MEOW Guardian Angel: A "Guardian Angel" is a person who cares deeply for an adult cat or cats, but isn't in the position to adopt them. This person pre-pays the adoption fee so that when someone is interested in adopting a cat or cats, the fee is waived. At any given time, MEOW has many adult cats who have Guardian Angels, blessed by the person who wants them to find a home, there will be no adoption fee.
---
Vouchers for Free Public Spay/Neuter Surgeries Available through MEOW
Thanks to grant funds received, MEOW continues to provide needed spay/neuter surgery support to those in our community. Since receiving their first grant mid 2010, they have funded over 2400 spay/neuter surgeries. Funds are available for dogs, feral or free-roaming cats, cats belonging to anyone needing financial assistance, and cats who qualify for their Toms & Moms program. While MEOW has often provided monetary support for community members needing financial assistance or those managing feral cat colonies, these additional grant funds help them do more. If you know someone who could use their help, please have them call the shelter (425-822-6369) or email MEOW at spayneuter@meowcatrescue.org
---
Seattle Animal Shelter Pet Loss Support Group meets on Thursday evenings from 6 to 7:30 p.m. at the Shelter. The meetings are free. For more information call (206) 386-7387 and press #3. www.seattleanimalshelter.org.
---
Free spaying/neutering available for parent dogs and cats at Seattle Animal Shelter
As part of an ongoing program, anyone who brings a litter of puppies or kittens to the Seattle Animal Shelter is eligible to have the parent animals spayed or neutered for free. As long as donors continue to support the Pet Population Control Fund, the offer will continue indefinitely. For more information about this free spay and neuter program and other Seattle Animal Shelter services, call (206) 386-PETS (7387). 49-7560 or online at seattlehumane.org/fix
---
If you would like to foster cats and kittens for Seattle Animal Shelter plan to attend a free foster cat orientation at Seattle Animal Shelter, held on the first Saturday of each month from noon to 1 p.m. Sign up by email at sasfostercatorientation@gmail.com. Pre-registration is required. For more information call 206-386-PETS.
---
N.O.A.H. and Feral Cat Spay/Neuter Project offering low rates for cat spay/neuter surgeries!
N.O.A.H. Animal Adoption and Spay/Neutear Center is now offering feline spay/neuter surgeries for only $10 to people regardless of location. N.O.A.H. also is now altering any feral or free roaming cat free! Other needed vaccines and tests are also offered at very low rates. For more information, visit N.O.A.H.'s web page at www.thenoahcenter.org/
---
Missing Pet Partnership seeks volunteers and donations for Zeke's surgery
The Missing Pet Partnership, a non-profit organization, seeks donations and volunteers to continue their work and pay for Zeke, K9 Pet Detective's surgery. Send your donations to PO Box 3085, Federal Way, WA 98063. For more info visit www.missingpetpartnership.org
---
Pet Loss Support Group meets on Saturday mornings at 10 a.m. at the Humane Society in Bellevue. More more information visit seattlehumane.org or call 425-641-0080.
---