Listen to Martha Norwalk's Animal World every Sunday, 9 a.m. to noon
---
Missy's Rescue and Animal Talk has closed the doors. The physical location is gone, but the need for help is still URGENT.

Please help Missy's Rescue! Past rent is overdue and supplies for fosters are depleted. You can donate through Paypal at www.paypal.me/missysrescue or send $$$ to Missy's Rescue, 11410 NE 124th St., #439, Kirkland, WA 98034. Pie Rent Raffle for past rent is happening now! For every $25 donated you get a ticket in the raffle.
Please help if you can and call Missy to donate by phone! Donate through either of the above methods, or call Missy at 206-356-8245.
---
Upcoming Event with Linda Rasmussen
Join Linda Rasmussen for a free Family B.E.S.T. class! You can learn a simple, powerful technique to provide energetic balance to your children, spouse or parent. Tuesday, Nov 12, at 11 a.m. to 1:30 p.m., The Old Rainier Brewery, IntraSpace, 3100 Airport Way South, Seattle WA 98134. Space is limited and you must register by 5 p.m. on November 11 by calling or texting to 206-841-1992
---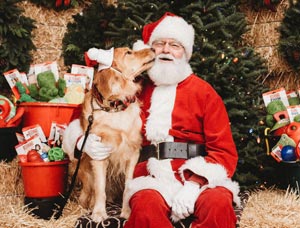 Santa Paws is coming to town to benefit the animals at Kitsap Humane!
Sunday, Nov. 24, 11 am to 3 pm at Olmsted Tree Farms, 17526 Clear Creek Road NW, Poulsbo, WA, photography courtesy of Catie's Photography.


Sunday, Dec. 8, 11 am to 3 pm, Kitsap Humane Society in Silverdale, 9167 Dickey Road NW, photography courtesy of Four Foot Photography.


Saturday, Dec. 14, 11 am to 3 pm, Z Bones on Bainbridge Island, 146 Winslow Way W., photography courtesy of Four Foot Photography.
Dogs must be on leash and cats must be in carrier. The cost is $20 per family and includes 1-3 digital photo downloads. All proceeds go to the animals in Kitsap Humane's care.
---
Meet Eileen Weintraub and Mark Johnson from Help Animals India for the annual holiday sale of handicrafts and baked treats and more, December 1, 11 am to 4 pm at Sakya Monastery of Tibetan Buddhism, 108 NW 83rd St., Seattle, www.sakya.org, 206-789-2573.
---
Upcoming Events at the NW Stream Center
McCollum Park, 600 128th At. SE, Everett, 98208; 425-316-8592
Holiday Trees for Salmon Kick-Off and Maker's Bazaar!
Beginning Saturday December 7, 10am-2pm, the Adopt A Stream Foundation will be selling live and wild Holiday Trees for Salmon at the Northwest Stream Center in Snohomish County's McCollum Park. Visitors who purchase a tree from the selection of live trees that are in pots, take them home and care for them during the holiday season. After the holidays, visitors can keep their tree and plant it, or return it to the Northwest Stream Center where it will be planted next to local streams helping out next year's salmon runs. The same day, they are also hosting their frst Holiday Maker's Bazaar. Folks will have the opportunity to walk the nature trail that winds through 32 acres of beautiful forest and wetland habitat, peruse their selection of holiday trees, partake in arts and crafts, sip on a cup of cocoa and take a gander at the items for sale!
To learn about upcoming Streamkeeper Academy events go to www.streamkeeper.org.
---
Upcoming events for Canine Coalition:
First Saturday of every month: Spotlight on Dogs, King 5, 8-9 am hour
Follow them on FB, Instagram, and Twitter for Updates
---
Upcoming events at Homeward Pet Adoption Center, www.homelesspet.org
Good Dogs, Great Sweaters, Great Wine, Saturday Nov 16, join Homeward for a dog-friendly afternoon of wine, food, shopping, and hilarious contests to help ensure the animals have a warm and bright holiday season.
---
Join Darcy Pariso for Animal Soul Wisdom Radio, 2nd and 4th Thursdays

• Every second Thursday, November 14, at 11 am Pacific, on KKNW 1150 AM in Seattle https://1150kknw.com/listen/ and Transformation Talk Radio. Call in 1-800-930-2819.
• Every fourth Thursday, November 28, 2 pm Pacific, with guest Robin Alexis, on Transformation Talk Radio. Call in 1-800-930-2819.
Visit Darcy at https://darcypariso.com/ or at her Facebook page, Angels and Animals.
---
Events at Seattle Humane www.seattlehumane.org
Kitty Literature offers the opportunity for 5-10 year olds to help socialize Seattle Humane's cats by reading to them. Participants can read to cats in the community adoption rooms for 20 minute sessions. What better way for your child to help animals and improve upon their own skill set!, More info and register at seattlehumane.org
---
Events at Feral Cat Spay/Neuter Project:
FCSNP and Pasado's Safe Haven collaborate on transportation to increase access to spay/neuter in Snohomish County. Pickup wull be at Sultan Red Apple Market. For an appointment call 425-673-2287. More info on FCSNP's website www.feralcatproject.org.
---
Events and Services at Purrfect Pals
Free cat spay and neuter clinic Fridays by appointment at The Purrfect Pals clinic in Arlington. Donations are encouraged but not required. Email cats@purrfectpals.org or call 360-652-9611 to schedule an appointment.
---
Updates from MEOW www.meowcatrescue.org
2020 Calendars are now available at the shelter or online. $10 if you pick up, $12 if shipped.
MEOW's Holiday Bazaar is Saturday, November 30, 11-4 at the new location: Life Community Church, 232 5th Ave S, Kirkland (kitty-corner from their previous location.)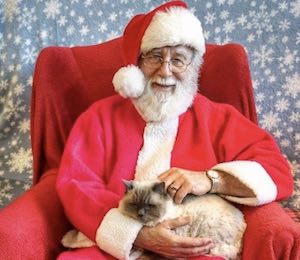 Commemorate this holiday season and support MEOW Cat Rescue with a picture of your pet with Santa. (Santa welcomes people, too!)
Nov 23, 12-3 p.m. Canyon Park Mud Bay store
Dec 1, 12-3 p.m. Redmond Mud Bay store
Dec 7, 12-3 p.m. Broadway & Pike Mud Bay store
Dec 8, 12-3 p.m. Greenwood Mud Bay store
Dec 14, 12-3 p.m. Mercer Island Mud Bay store
Dec 15, 12-3 p.m. SammamishMud Bay store
Dec 21, 12-3 p.m. Overlake Mud Bay store
Dec 22, 12-3 p.m. Kirkland Mud Bay store
For a $20 donation you will receive a printed photo on site and access to online digital images. We will be accepting pet food donations for the shelter and our Animeals Food Drive, which benefits the pets of families in need via Hopelink. For the safety of everyone, please have your pet on a leash or in a carrier.
Mark your calendar for the 15th Annual Fine Wines and Felines Auction and Fundraiser, Saturday, June 20, 2020.
Become a MEOW Guardian Angel: A "Guardian Angel" is a person who cares deeply for an adult cat or cats, but isn't in the position to adopt them. This person pre-pays the adoption fee so that when someone is interested in adopting a cat or cats, the fee is waived. At any given time, MEOW has many adult cats who have Guardian Angels, blessed by the person who wants them to find a home, there will be no adoption fee.
Vouchers for Free Public Spay/Neuter Surgeries Available through MEOW: Thanks to grant funds received, MEOW continues to provide needed spay/neuter surgery support to those in our community. Since receiving their first grant mid 2010, they have funded over 2400 spay/neuter surgeries. Funds are available for dogs, feral or free-roaming cats, cats belonging to anyone needing financial assistance, and cats who qualify for their Toms & Moms program. While MEOW has often provided monetary support for community members needing financial assistance or those managing feral cat colonies, these additional grant funds help them do more. If you know someone who could use their help, please have them call the shelter (425-822-6369) or email MEOW at spayneuter@meowcatrescue.org
---
Seattle Animal Shelter Pet Loss Support Group meets on Thursday evenings from 6 to 7:30 p.m. at the Shelter. The meetings are free. For more information call (206) 386-7387 and press #3. www.seattleanimalshelter.org.
---
Free spaying/neutering available for parent dogs and cats at Seattle Animal Shelter
As part of an ongoing program, anyone who brings a litter of puppies or kittens to the Seattle Animal Shelter is eligible to have the parent animals spayed or neutered for free. As long as donors continue to support the Pet Population Control Fund, the offer will continue indefinitely. For more information about this free spay and neuter program and other Seattle Animal Shelter services, call (206) 386-PETS (7387). 49-7560 or online at seattlehumane.org/fix
---
If you would like to foster cats and kittens for Seattle Animal Shelter plan to attend a free foster cat orientation at Seattle Animal Shelter, held on the first Saturday of each month from noon to 1 p.m. Sign up by email at sasfostercatorientation@gmail.com. Pre-registration is required. For more information call 206-386-PETS.
---
N.O.A.H. and Feral Cat Spay/Neuter Project offering low rates for cat spay/neuter surgeries!
N.O.A.H. Animal Adoption and Spay/Neutear Center is now offering feline spay/neuter surgeries for only $10 to people regardless of location. N.O.A.H. also is now altering any feral or free roaming cat free! Other needed vaccines and tests are also offered at very low rates. For more information, visit N.O.A.H.'s web page at www.thenoahcenter.org/
---
Pet Loss Support Group meets on Saturday mornings at 10 a.m. at the Humane Society in Bellevue. More more information visit seattlehumane.org or call 425-641-0080.
---